G - Comedy Vocalist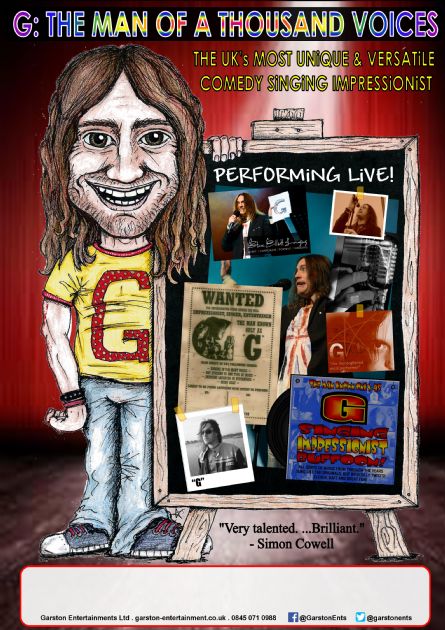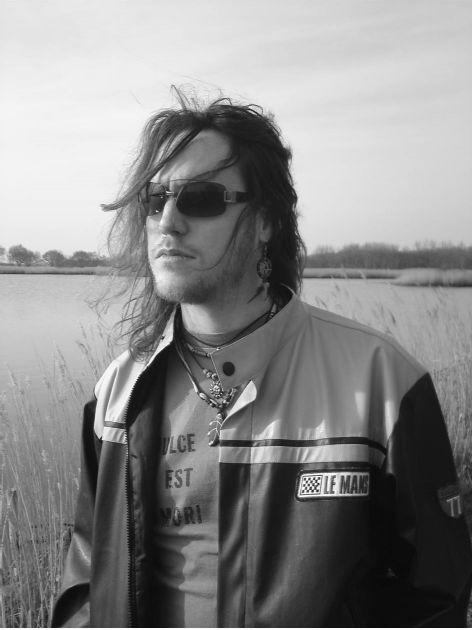 G - Comedy Vocalist
Versatile Vocal Impressionist
Ideal for Corporate Events, Functions, Comedy Nights
Highly Recommended
Britain's Got Talent Contestant 2015
Family Friendly or 18+ Shows Available
Full Public Liability and PAT Testing
Available UK Nationwide & Worldwide
G is a Hilarious Unique Comedy Vocalist and Impressionist Who Would Make Ideal Entertainment for Corporate Events, Private Functions, Live Comedy Nights, Charity Events and More!

The man known as "G" is a unique solo performer based in the east of England. His show is a wonderfully entertaining combination of singing impressions, wit and craziness; covering a vast range of music with an impeccable talent for mimicry. A former member of The Brother Lees, he has performed throughout the British Isles in venues ranging from pubs and clubs to the London Palladium.

G is an excellent singer in his own right, but the wild card in the act is the voices (and not just the ones in his head). He has a huge repertoire of vocal impressions ranging from James Blunt to Joe Cocker. The show takes you on an unpredictable ride from an uncanny Louis Armstrong to a roaring Nickelback, and from the dulcet tones of George Ezra to the squeaky Bee Gees. There are nods to Monty Python and comedy legends such as Billy Connolly, and character voices from the likes of Family Guy and the Muppets.

Half the fun of G's act is noting his myriad facial expressions and random lyric changes and comments, often so subtle they could be missed. He can be silly with the best of them, and never misses the chance of a witty retort. And you never get exactly the same show twice, (which makes it ideal for rebooking), there is always something new to experience...So pay attention class!

G has over eleven years' full-time solo experience, plus four years before that as a member of The Brother Lees. He is a dependable and professional performer offering something very different from any other act. The show is adaptable up to two hours performance time, fully self-contained complete with quality sound system and lights. All equipment is PAT tested and covered by public liability insurance.

To date G has limited himself to performing predominantly in East Anglia, but is now looking to take his unique act to other areas and travel to new audiences. To this end he is looking to work in conjunction with agencies based throughout the UK.

Make sure not to miss out on this fantastic act, contact us today for further information and to book!

SINGING IMPRESSIONS
(alphabetically)
A-ha
Andrew Strong (Commitments)
Andy Williams
Barry White
Biffy Clyro
Bill Haley & The Comets
Bill Withers
Billy Idol
Billy Joel
Billy Ray Cyrus
Bing Crosby
Blues Brothers
Bob Dylan
Bon Jovi
Boyzone
Buddy Holly
Busted
Cab Calloway
Chad Kroeger
Chris Rea
Chuck Berry
Coldplay
Counting Crows
Crash Test Dummies
David Bowie
David Gray
Dean Martin
Deep Blue Something
Del Shannon
Dire Straits
Dirty Dancing
Eddie Cochran
Elton John
Elvis Presley
Enrique Iglesias
Erasure
Eric Clapton
Fats Domino
Garth Brooks
Gary Barlow
Gene Pitney
George Ezra
George Formby
Gerry & The Pacemakers
Grease
Green Day
Guns N' Roses
James
James Blunt
Jim Croche
Jim Reeves
Joe Cocker
John Denver
John Lennon
Johnny Cash
Journey
Julio Iglesias
Kenny Rodgers
Kings Of Leon
Lionel Ritchie
Louis Armstrong
Lynyrd Skynyrd
Manfred Mann
Maroon 5
Metallica
MIKA
Monty Python
Nat King Cole
Neil Diamond
Neil Morrisey (Bob the Builder)
Nickelback
Oasis
Ocean Colour Scene
Olly Murs
Otis Redding
Paolo Nutini
Passenger
Paul Simon
Paul Weller
Plan B
Prince
Queen
Radiohead
Ralph McTell
Razorlight
Reef
REM
Ringo Starr
Robbie Williams
Rocky Horror Picture Show
Ronan Keating
Roy Orbison
Sanctas Quay
Showaddywaddy
Smokie
Snow Patrol
Stereophonics
Steve Harley & Cockney Rebel
T Rex
Take That
The Beach Boys
The Beatles
The BeeGees
The Byrds
The Coral
The Darkness
The Doors
The Drifters
The Eagles
The Fray
The Killers
The Kinks
The Kooks
The Levellers
The Mavericks
The Monkees
The Proclaimers
The Righteous Brothers
The Rolling Stones
The Searchers
The Temptations
The Troggs
The Verve
The Who
Travis
U2
UB40
Van Morrison
Village People
Westlife
Wet Wet Wet
Willy Nelson
In addition to these, Gee also offers a variety of spoken impressions.
Travel
UK Nationwide | Europe | Worldwide
Corporate Events
Corporate Showcases
Private Functions
Comedy Clubs
Venues
And More!
Reviews of G - Comedy Vocalist
Make Enquiry for G - Comedy Vocalist Now!