The Livertones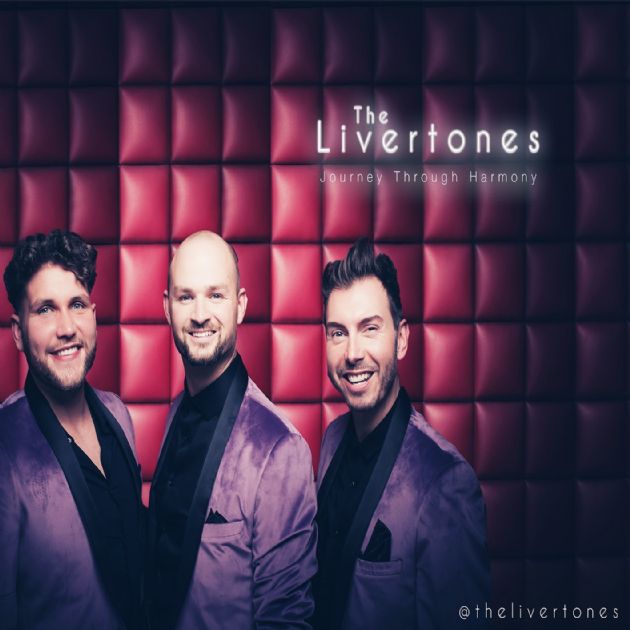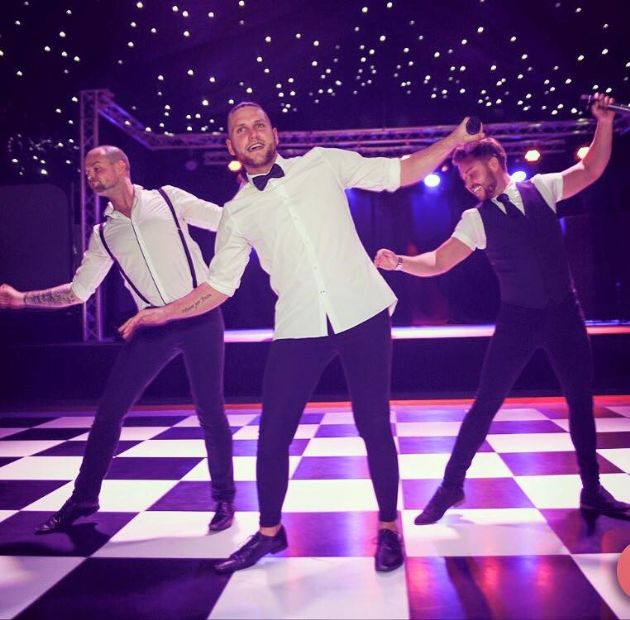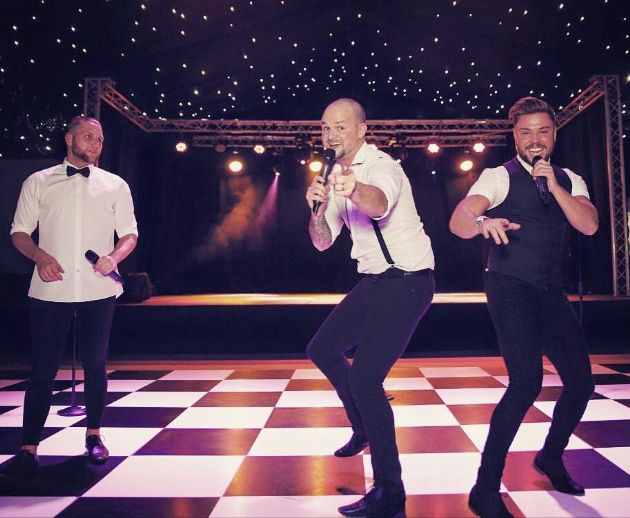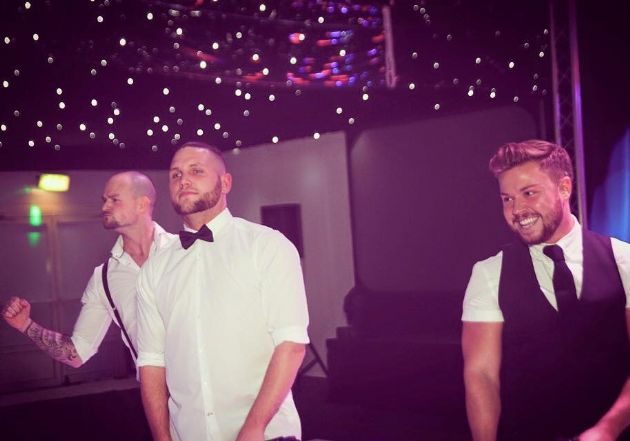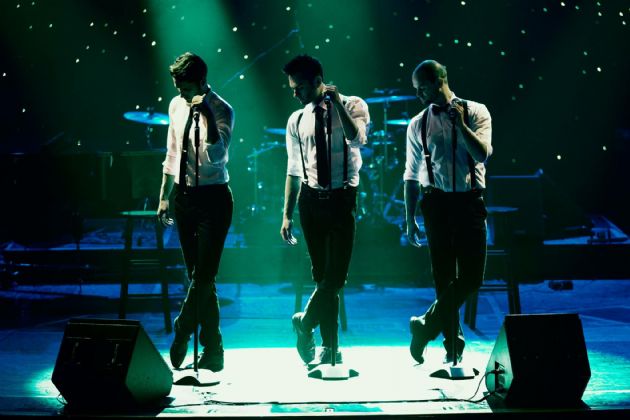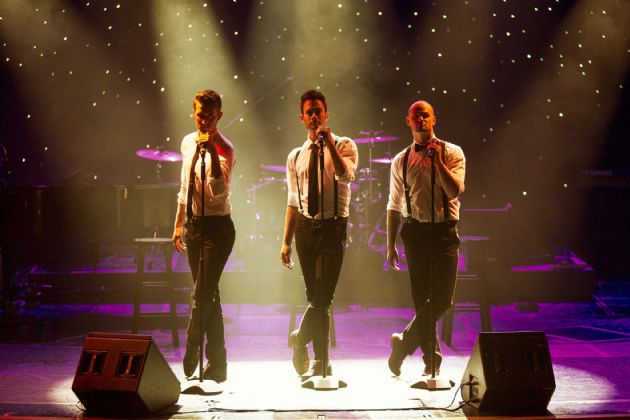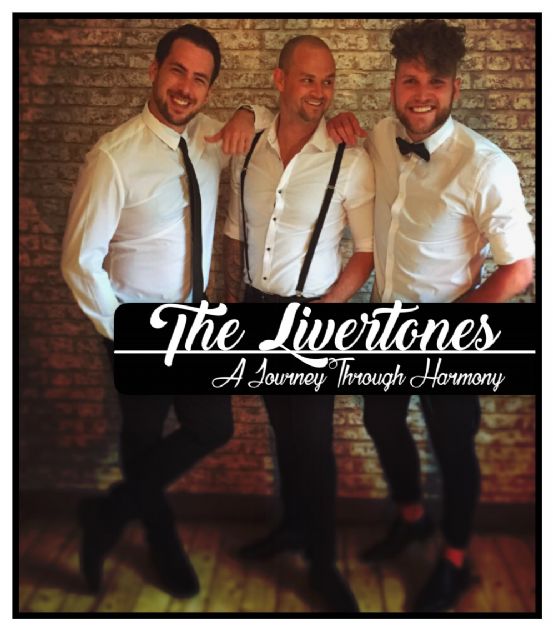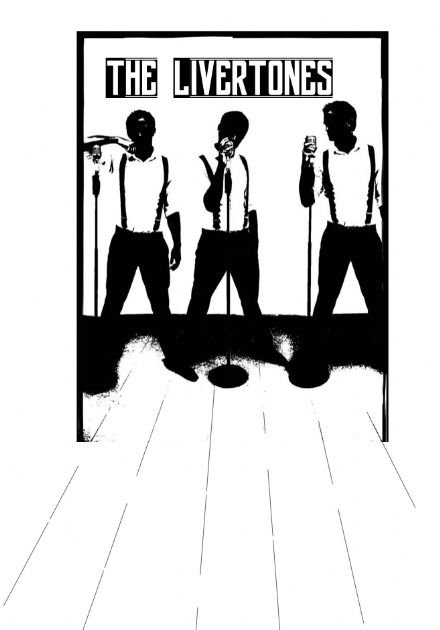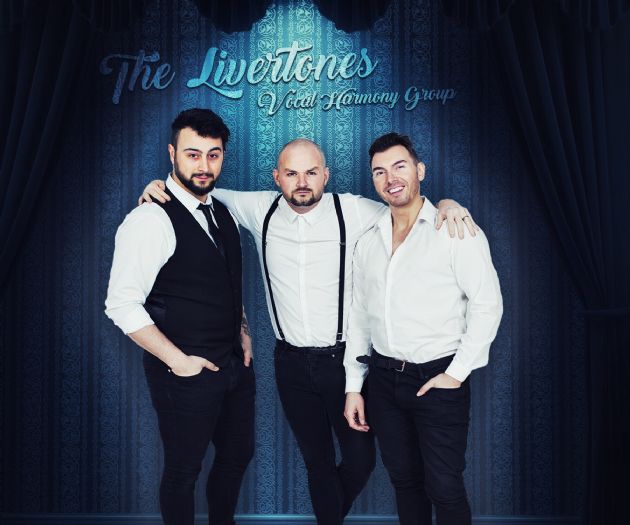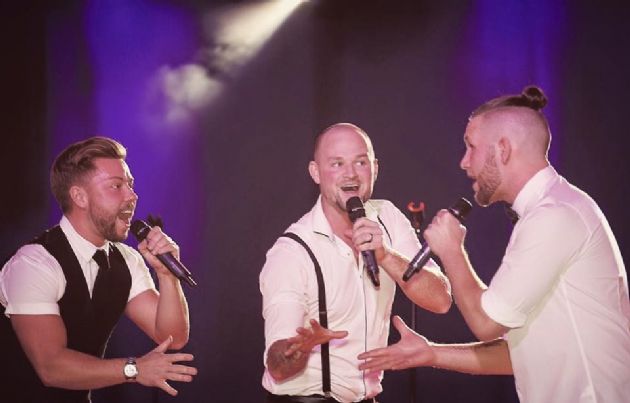 The Livertones
Outstanding Vocal Harmony Trio
Perfect for Wedding, Events and Parties
Highly Recommended, Popular Choice
Full Public Liability and PAT Testing
Available UK Nationwide
Available Europe & Worldwide
The Livertones are an Outstanding Male Vocal Harmony Trio featuring three Amazing Lead Vocals and Stunning Close Harmonies.

Let the boys entertain and enthrall you with their unique take on hits songs. The Livertones will take your guests on a journey through the decades in Harmony. Songs from Frankie Valli and The Four Seasons and the Temptations to modern day artists such as Sam Smith, Bruno Mars and Olly Murs with the occasional Liverpool influence of the Beatles.

The Livertones are the perfect choice for any Venues, Weddings, Corporate Events, Private Parties or Functions.

Don't hesitate in contacting us for more information and to book!
Oh What A Night (December 63) - Franky Valli The Four Seasons
Help - The Beatles
Canít Buy Me Love - The Beatles
A Hard Days Night - The Beatles
I Want To Hold Your Hand - The Beatles
My Girl - The Temptations
In The Still Of The Night - The Five Satins
Why Do Fools - Frankie Lymon and the Teenagers
Teenager In Love - Dion & Belmonts
Who Loves you - Franky Valli The Four Seasons
Jersey Boy Medley - Franky Valli The Four Seasons
Cant Take My Eyes Off You - Franky Valli The Four Seasons
Working My Way Back To You - Franky Valli The Four Seasons
Stand By Me - Ben E. King
Bring Him Home - Les Miserables
This Is The Moment - Jeckll & Hyde
Crazy Little Thing Called Love - Queen
Uptown Girl - Billy Joel
For The Longest Time - Billy Joel
Land of 1000 Dances - Wilson Pickett
Sh Boom - The Overtones
Perfect - The Overtones
Gambling Man - The Overtones
End Of The Road - Boyz ii Men
Man In The Mirror - Michael Jackson
Wonder wall - Oasis
Never Forget - Take That
Dance With Me Tonight - Olly Murs
Kiss Me - Olly Murs
Sorry - Justin Bieber
History - One Direction
Lay Me Down - Sam Smith
Pencil Full of Lead - Paulo Nutini
Uptown Funk - Bruno Mars
Happy - Pharrell William
Canít Stop The Feeling - Justin Timberlake
Travel
UK Nationwide | Europe | Worldwide
TV Adverts - Interflora
Live Music Venues
Theatres
Hotels
Weddings
Corporate Events
Private Parties
And More!
Reviews of The Livertones
Lesley booked The Livertones for a cabaret night at The Beaufort Park Hotel, Mold

The Livertones went down really well and everyone had a fab night, Thanks

---

Derek Pilkington booked The Livertones for Southport & Ainsdale Golf Club

Iíd just like to thank you all at Garston for the acts you sent us, the Livertones where exceptional on Friday night. Iím looking forward to next year!

---

Derek Pilkington booked entertainment for Southport & Ainsdale Golf Club

Iíd just like to thank you all at Garston for the acts you sent us, the Livertones where exceptional on Friday night. Iím looking forward to next year!

---

Zoe booked The Livertones for her Wedding

The Livertones played at our wedding reception Sunday night. They were fantastic and guests loved them. We didn't want the set to end! They even sang our first dance. Great lads- Thank you so much. Would definitely recommend them to any party!

---

Angela Griffiths booked The Livertones for an Cabaret night

Absolutely brilliant,total showmen who cater for every musical taste,enjoyed every single song and can't wait to see them again,thanks for a fabulous night.

---

Linda & Mark booked The Livertones for their Wedding

Truly amazing they played at our wedding on the 3rd September. They had everyone dancing, their singing blew us away! We would recommend these guys time & time again. We couldn't have wished for better!

---

Yvonne Edwards booked The Livertones for her venue.

Thanks for an awesome night atThe Jolly Boys, Maes yr H'f, Trealaw last night. Your version of Bring Him Home reduced me to tears, it was sung with such emotion. I haven't seen the dance floor that full in the second half for a long time, that's some achievement. Well done!

---

Jane Elizabeth Potter watched The Livertones at a holiday park

Having watched you in quay west the weekend I thought you were absolutely fantastic, I have not long come off a cruise and I have to say you were better entertainment than what we had( even though it was good)! I would definitely come to watch you again!!!

---

Bob Halliday booked the Livertones for his venue

The Livertones were absolutely amazing tonight!! So entertaining and amazingly talented!! If you're after some great singers who do a variety of songs and not just sing but entertain, it's these you need! Such nice lads!!

---

Caz Waite booked the Livertones for an Event.

Such an amazing group!! They have the look, the moves and the voices to make it big. Super friendly and genuinely lovely people who I'm very happy to have worked with. Great effort guys! We will have you back any time.

---

Katy June Manfield watched The Livertones perform at a Holiday Park In Great Yarmouth

We watched these guys at Wild Duck holiday park in Great Yarmouth on Saturday night! They were amazing, put on a really good show! My youngest daughter Poppy, woke up Sunday morning asking if were 'seeing the nice men again' that night lol. Just the sort of thing we would like for our wedding, shame we are in Cambridge. Keep up the good work guys!

---

Barry Brown, who describes himself as a 60 year old LiverToner, hired The Livertones for a private birthday party at The Gate Inn, Nottinghamshire

Just wanted to say thank you for giving us a night to remember. I have been inundated with texts in regards to how magnificent the. LiverTones were. I hope our paths cross again soon.The boys are such nice people who give 100 percent and should be proud of how they conduct themselves.

---

ennie Nunne, Events Co-ordinator, hired The Livertones to perform at their Spring Ball. Bishopswood Golf Course, Hampshire

The Livertones came to Bishopswood Golf Course in April for our Spring Ball, a great night was had by all. Their performance was first class, high energy and vocals spot on. They had the room up dancing and involved throughout the evening. The lads were happy to mingle with the crowd and weren't put off by the ladies dancing round them. We would definitely have them back when the right occasion comes up. Thank you for a fantastic performance and night of entertainment.

---

Catherine hired The Livertones to perform at a live music event at Sant Angelos Italian Restaurant, Wetherby.

The Livertones are an excellent band , everyone enjoyed their performance at Sant Angelos Italian restaurant in Wetherby. The 1st set was a tribute to FrankiValli and the 2nd set was party music. Everyone was up dancing and our customers had a wonderful evening. Will be booking them again in 2018.

---

Clive, Catering Manager, saw The Livertones at Mr & Mrs Jarvisís Wedding

WoW! Fantastic talented people who impressed with their professionalism. They really brought a sense of fun to the wedding

---

Jamie Gill saw The Livetones perform at Mr & Mrs Markeys Wedding where he was attending as a guest

Seen these guys at my friends wedding the year were amazing! Had everyone up dancing and interacted with everyone. If I wasn't already married I would have had them at mine! Highly recommended!

---

Ian Reid- Padeswood booked The Livertones for an event at Buckley Golf Club

We had The Livertones perform at our golf club on Saturday 25th march, I would like you to pass my thanks to Adam for the performance they gave. Everyone was very impressed with all the quality singing and dancing that many asked how soon I could get them back ! As per normal with Garston's acts full of quality and assured of making the evening a big success. Thanks again.

---

Ron booked The Livertones for The Vines a Music Venue in Liverpool

The Livertones were fantastic, very well received, got 2 standing ovations - Outstanding!

---
Make Enquiry for The Livertones Now!