The Mersey Makers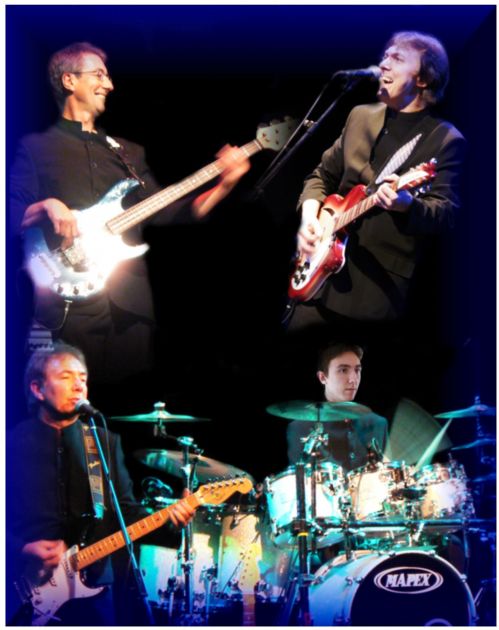 The Mersey Makers
A Tribute to the 60's Mersey Era
Highly Recommended
Viewed & Approved
UK Nationwide
Performing songs by – The Beatles , The Searchers , Gerry & The Pacemakers, The Merseybeats, The Swinging Blue jeans, and many more of the great band of the 60's.

The band consist of members from top tribute band "Beach Boys inc" who have been touring the uk & continent for over 12 years, so expect some great Harmonies. They have also been touring all over the uk in Theatres with "The No.1 Show" performing No.1 Hits from the 50's, 60's & 70's.

They have over 2 hours of material – listed below are just a few of the many songs " The Mersey Makers" perform Live !
From me to you - The Beatles
I want to hold your hand – The Beatles
Hippy Hippy Shake – The Swinging Blue Jeans
Sorrow – The Merseys
Tired of Waiting – The Kinks
All Over Now – The Rolling Stones
Ferry cross the Mersey – Gerry & the Pacemakers
Sweets for my sweet – The Searchers
Needles & pins - The Searchers
Don't throw your love away – The Searchers
When you walk in the room – The Searchers
You really got me – The Kinks
Do Wah Diddy Diddy - Manfred Mann
Groovy kind of love – The Mindbenders
Day Tripper – The Beatles
Glad all over – The Dave Clark Five
You were made for me – Freddie & the dreamers
A little loving – The Fourmost
Bad to me – Billy J Kramer & the Dakota's
Keep on Running – The Spencer Davis Group
From A Window – Billy J Kramer & The Dakota's
How do you do it – Gerry & The Pacemakers
I like it – Gerry & the Pacemakers
Travel
Uk , Europe & Worldwide
Reviews of The Mersey Makers
John Hancock The Guildhall - St Ives

The Mersey makers deserves high praise indeed for the effort that they have clearly invested in recreating a defining sound through their own skills as musicians, No backing tracks here, these men really played the music

---

Maureen Reeves Majestic Theatre – Retford

All the memories came flooding back as we sang and clapped along to the music of the 60's [gives your age away when you can remember all the words] The Band took us down memory lane and i really enjoyed the the journey.

---
Make Enquiry for The Mersey Makers Now!