Just Like The Beatles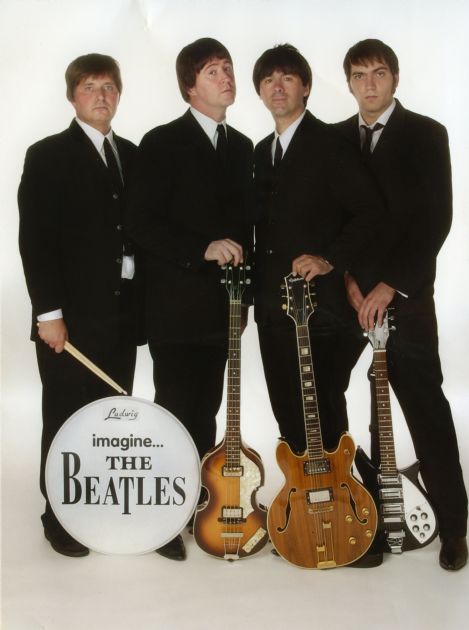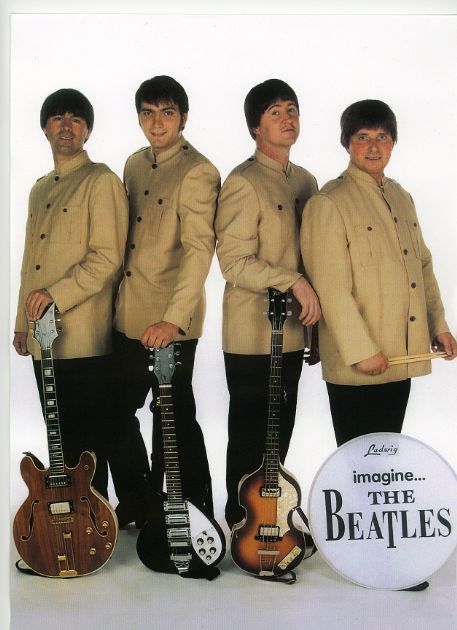 Just Like The Beatles
4 piece tribute to The Beatles
Highly Recommended
Viewed & Approved
UK Nationwide
For a fantastic night out where the hits just keep coming, enjoy the very best of 'The Beatles'. The top Beatles tribute band in the industry performing live for just one night only.

Having been together for the last ten years playing all over the UK and overseas these boys will take you back to the great days of 'The Sixties'. Just listen and watch the show ..... Could it really be them?

From The 'Cavern' club through to 'Abbey Rd' and back, calling at 'Penny Lane' en route this is one 'Magical Mystery Tour' you won't want to miss! "Yeh yeh yeh"

Have you got your 'Ticket to Ride'?
ACT NATURALLY
ALL MY LOVING
ALL YOU NEED IS LOVE
AND I LOVE HER
BACK IN USSR
CAN'T BUY ME LOVE
DAY TRIPPER
DIZZY MISS LIZZY
DO YOU WANT TO KNOW A SECRET?
EIGHT DAYS A WEEK
ELEANOR RIGBY
EVERYBODYS TRYING TO BE MY BABY
FROM ME TO YOU
GET BACK
GOT TO GET YOU INTO MY LIFE
HARD DAYS NIGHT
HELLO GOODBYE
HELP!
HERE COMES THE SUN
HERE THERE AND EVERYWHERE
HEY JUDE
HONEY DON'T
I FEEL FINE
I SAW HER STANDING THERE
I SHOULD HAVE KNOWN BETTER
I'VE JUST SEEN A FACE
I WANT TO HOLD YOUR HAND
I'LL BE BACK
I'M DOWN
I'VE JUST SEEN A FACE
IF I FELL
IN MY LIFE
KANSAS CITY
LADY MADONNA
LET IT BE
LONG TALL SALLY
LOVE ME DO
LUCILLE
LUCY IN THE SKY WITH DIAMONDS
MAGICAL MYSTERY TOUR
MICHELLE
NO REPLY
OB-LA-DI,OB-LA-DA
PAPERBACK WRITER
PENNY LANE
PLEASE MR POSTMAN
PLEASE PLEASE ME
REVOLUTION
ROCK AND ROLL MUSIC
ROLL OVER BEETHOVEN
SGT PEPPERS LONELY HEARTS CLUB BAND
SHE LOVES YOU
SHE'S A WOMAN
SWEET LITTLE SIXTEEN
THE BALLAD OF JOHN AND YOKO
THE NIGHT BEFORE
TASTE OF HONEY
THINGS WE SAID TODAY
THIS BOY
TICKET TO RIDE
TILL THERE WAS YOU
TWIST AND SHOUT
WE CAN WORK IT OUT
WHEN I'M SIXTY FOUR
WITH A LITTLE HELP FROM MY FRIENDS
YELLOW SUBMARINE
YESTERDAY
YOU CAN'T DO THAT
YOUR MOTHER SHOULD KNOW
YOU'RE GONNA LOSE THAT GIRL
YOU'VE GOT TO HIDE YOUR LOVE AWAY
Travel
UK Nationwide & Worlwide
Reviews of Just Like The Beatles
Make Enquiry for Just Like The Beatles Now!