Kate - Violinist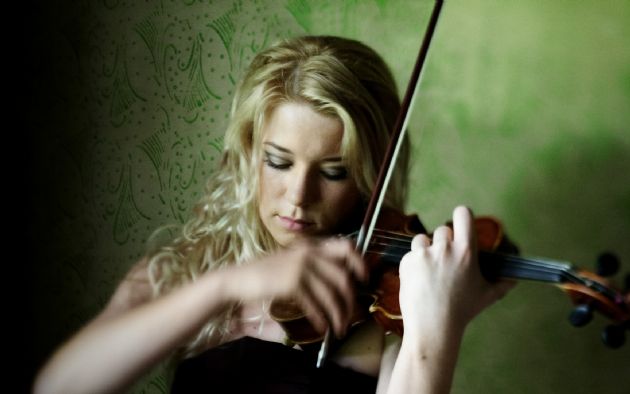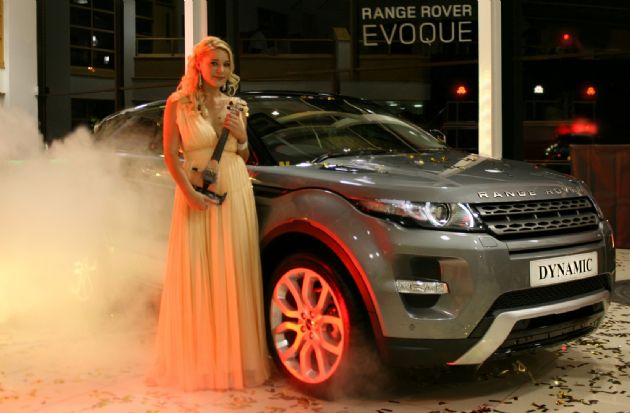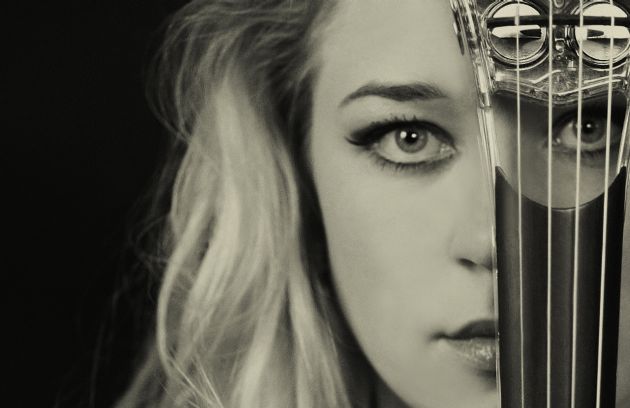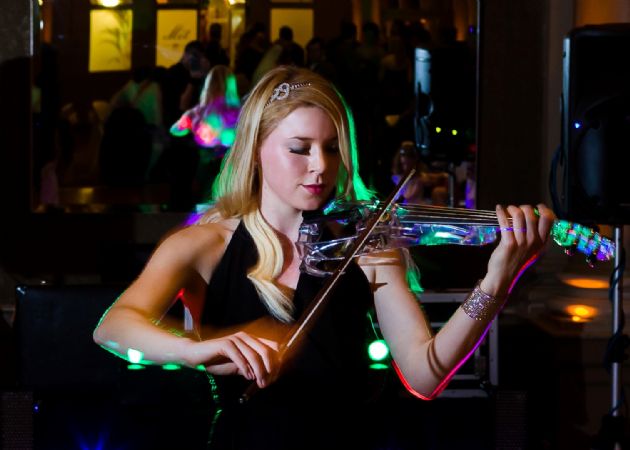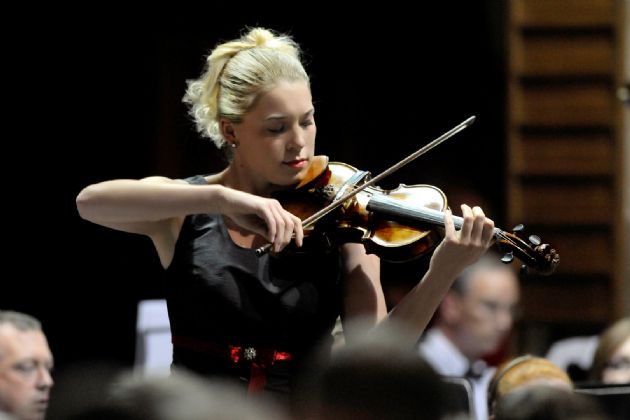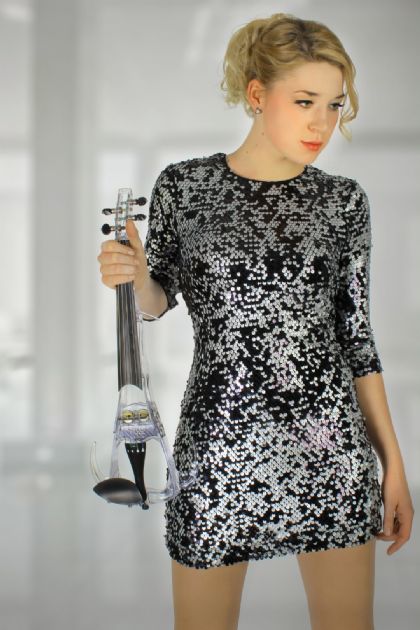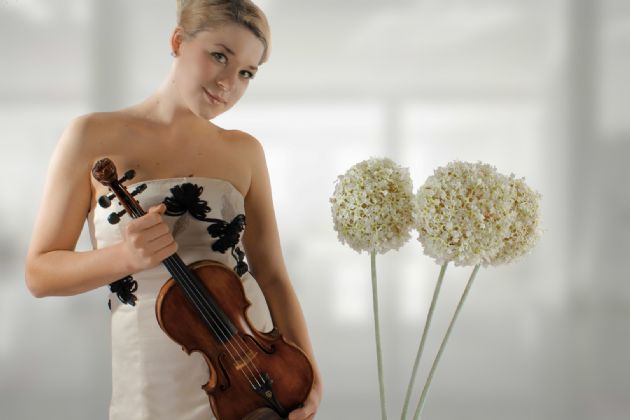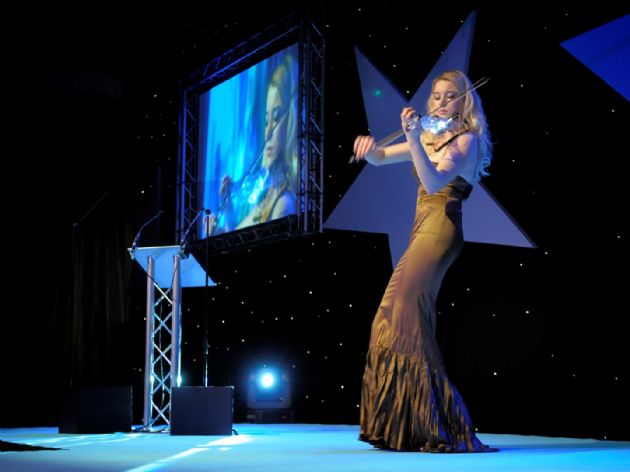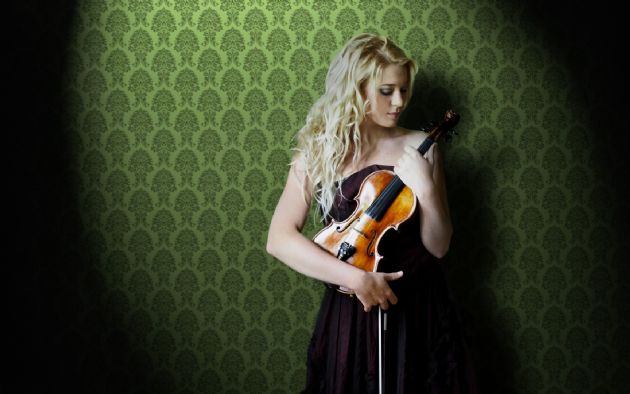 Kate - Violinist
Violinist for Weddings & Events
Highly Recommended
Viewed & Approved
UK Nationwide
Kate is a world famous & award winning musical sensation. She is a highly trained electric & classical violinist and has had over 17 years of rigorous training, including both BMus & MMus degrees in Violin Performance from the prestigious Royal Northern College of Music. Unlike so many of today's performers, Kate performs a repertoire that includes hundreds of pieces by memory - without sheet music! Kate will add a glittering new dimension to your event, be it an electrifying stage show or a more subtle background performance. Kate has previously appeared on TV in the UK on BBC 1, SKY and has performed for corporate clients and celebrities that have included Land Rover, Vogue, IBM, Apple, House of Fraser, Harvey Nichols, Heineken, Debenhams, Steve Coogan, The Rt. Hon. William Hague, and in Geneva for an International Forex Event. She has toured right across the UK, Europe and also performed in both Dubai & the USA, wowing audiences at every venue.

Kate has a huge repertoire of pieces for you to choose from, including a fiery & electrifying stage show, relaxing ambient lounge music and improvisation beside a live DJ. She can perform for up to 4 hours, the options below are for your guidance:

Electric Upbeat Show (up to 2 x 25 minute sets):
Kate's live stage show is a fantastic display of her virtuosic skill and talent, and has been created alongside world famous DJ Mike Freear. The Upbeat show features an extensive repertoire that includes dance remixes, pop hits and classical favourites (with a twist!).

Ambient (up to 2 x 45 minute sets):
Kate performs a selection of pieces that include fashionable lounge music, chillout pop classics, and her twist on a number of classical pieces. She can perform using either her classical violin, or her custom-designed Ted Brewer electric violin.

Electric Violin With DJ (up to 2 x 45 minute sets):
Kate will perform alongside her regular DJ, or a DJ of your choice, to a huge choice of fully customisable pieces. Kate is a phenomenal improviser, and can perform pieces that range from popular favourites to drum & base and dance music.

Classical (up to 2 x 45 minute sets):
Kate is an exceptionally well-trained classical violinist, and will graduate from the Royal Northern College of (RNCM) next year. She has performed scores of classical recitals over the years, including an annual recital at York Minster each summer. She has an extensive repertoire of virtuosic pieces to choose from, and can tailor each set to match your requirements or event perfectly.

Weddings (ceremony, reception, breakfast, evening entertainment):
Kate is also well-known for her outstanding wedding performances. She can perform during the ceremony (as guests arrive, for the processional, during the signing and of course the recessional), and also during the drinks reception and/or wedding breakfast. Couples may also use one of the previously mentioned sets to feature during their evening entertainment.



NB: This repertoire is only a selection of the pieces that Kate can perform, and she is also happy to prepare and perform requests. Please also note that Kate never performs with sheet music – she has memorised each and every piece in her repertoire.
Electric Remixed Tracks:
Contradanza - Vanessa Mae
Toccata and Fugue - Vanessa Mae
Libertango - Piazzolla
Storm - Vanessa Mae
Palladio - Escala
Night Flight - Vanessa Mae
Conquest of Paradise - Vangelis
Destiny - Vanessa Mae
Rule the World - Take That
Requiem for a Dream (Lux Aterna) - Mansell
Lambada - Kaoma
Eleanor Rigby - The Beatles
Bond Theme - Remix
Canon in D - Pachelbel
Wonderwall - Oasis
Por Una Cabeza - Gardel
Feeling Good - Escala
Popular:
Adele - Make You Feel My Love
Armstrong - La Vie en Rose
Armstrong - What a Wonderful World
Aznavour - She
Barry - You Only Live Twice
Beyonce - Halo
Blunt - You're Beautiful
Carey - Whenever You call
Cassidy - Songbird
Clapton - Tears in Heaven
Clapton - Wonderful Tonight
Cohen - Hallelujah
Coldplay - Viva La Vida
Gershwin - Summertime
Dylan - House of the Risin' Sun
Elbow - One Day Like This
Elton John - Can you Feel the Love Tonight
Enya - May it Be
Escala - Feeling Good
Escala - Palladio
Evanescence - My Immortal
Flying Pickets - Only You
Michael - Careless Whisper
Hamilton - Cry Me a River
Hupfeld - As Time Goes By
Kaoma - Lambada
Jones - Come Away With Me
Lily Allen - Not Fair
Lily Allen - Smile
Mancini - Moon River
Metallica - Nothing Else Matters
Muse - Butterflies & Hurricanes
Myers - Cavatina
Newman - Whisper of a Thrill
Oasis - Wonderwall
Seal - Kiss from a Rose
Sinatra - My Way
Snow Patrol - Chasing Cars
Stevie Wonder - Signed, Sealed & Delivered
Sting - Fields of Gold
Sting - Shape of My Heart
Streisand - Woman in Love
Take That - Greatest Day
Take That - Rule the World
The Beatles - Eleanor Rigby
The Beatles - Let it Be
The Beatles - Yesterday
The Beatles - Here Comes the Sun
The Beatles - Michelle
The Beatles - Norwegian Wood
The Killers - Mr Brightside
The Righteous Brothers - Unchained Melody
The Verve - Bittersweet Symphony
Van Morrison - Have I Told You Lately
Vanessa Mae - Contradanza
Vanessa Mae - I'm a Doun for Lack of Johnnie
Vanessa Mae - Night Flight
Vanessa Mae - Toccata and Fugue
Vanessa Mae - Storm
Vangelis - Conequest of Paradise
Webber - Memory
Withers - Ain't no Sunshine where she's gone
Classical:
Albinoni – Adagio
Bach - Air
Bach - Ave Maria
Bach - Joy of Man's Desiring
Beethoven - Minuet in G
Beethoven - Fur Elise
Barber - Adagio for Strings
Bocelli - Time To Say Goodbye
Brahms - Waltz in A
Brahms - Hungarian Dance No. 6
Bizet - Habenera
Clarke - Trupet Voluntary
Dvorak - Humoresque
Faure - Pie Jesus
Grieg - Solveig's Sog
Grieg - Morning Suite
Greensleeves - English
Hamnataing - Irish
Handel - Air
Handel - Hornpipe
Handel - Arrival of the Queen of Sheeba
Haste to the Wedding - Celtic
Holst - Jupiter
Massenet - Meditation
Monti - Czardas
Morricone - Gabriel's Oboe
Mozart - Minuet Divertimento
Mozart - Violin Concerto in G
O sole Mio - Italian
Pachelbel - Canon in D Major
Parry - Jerusalem
Puccini - O Mio Babbino Caro
Sait-Saens - The Swan
Scarborough Fair- English
Schubert - Traumerei
Schubert - Ave Maria
Schumann - Serenade
Strauss - Three Waltzes
Tchaikovsky - The Nutcracker
Musical / Film / TV:
Aladdin - A Whole New World
Beauty & the Beast - Theme
Bock - Sunrise, Sunset
Braveheart - Theme
Buffy Theme - Close Your Eyes
Fiddler on the Roof - Sunrise, Sunset
James Bond - Theme
Lord of the Rings - May it Be
Love Story - Theme
Love Actually - All You Need is Love
Meet Joe Black - Whisper of a Thrill
Out of Africa- Theme
Phantom of the Opera - All I Ask of You
Requiem for a Dream - Lux Aeterna
Scent of the Women - Por Una Cabeza
Secret Garden - Romance
Titanic - My Heart Will Go On
The Lion King - Can You Feel the Love Tonight
The Lion King - Circle of Life
Travel
UK Nationwide & Worldwide
Land Rover - Evoque launch party
IBM – International conference
Apple – Corporate entertainment
House of Fraser - Members evening
Dukascopy - International two day event
Heineken - Concert
Debenhams - Members evening
Harvey Nichols – Corporate entertainment
West Yorkshire Police - Awards ceremony
Greater Manchester Marathon - VIP show
Rotary - Car show
Rays of Sunshine - Charity ball
York Minster - Solo Recital
RNCM Symphony Orchestra
LU Symphony Orchestra
+ many more!
Reviews of Kate - Violinist
Make Enquiry for Kate - Violinist Now!