Saxed!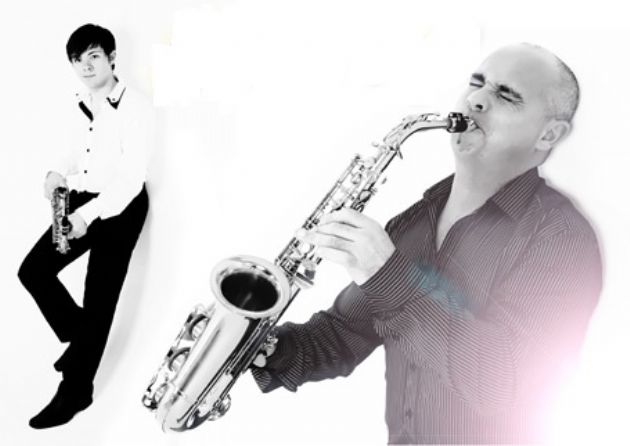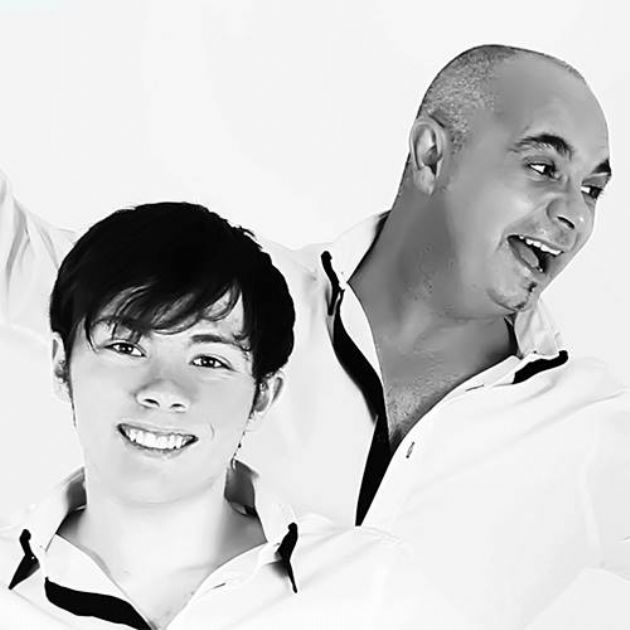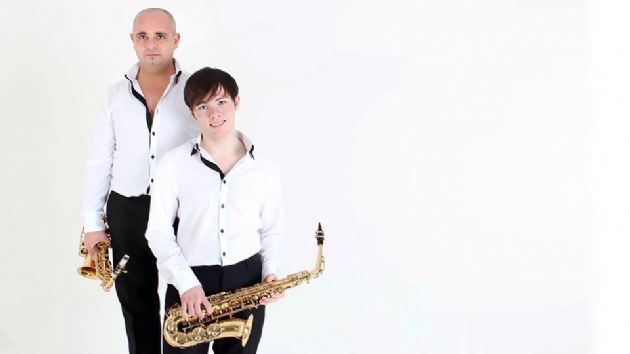 Saxed!
Brilliant Male Duo with Live Sax
Perfect for Weddings, Events & Parties
Highly Recommended, Popular Artiste
Music from 60's to Current Charts
Acoustic Set Available
DJ & Disco Package Available
Full Public Liability and PAT Testing
Available UK Nationwide
High Quality Duo with Brilliant vocals and Live Saxophones, perfect for your Wedding, Event, Function or Venue.

Comprised of well renowned vocal / saxophonist Carlo and his award winning son ' Aaron '. Both solo acts in their own right they have now united their epic talents to form this high level unique duo. Aaron a pro session saxophonist duelling with his dad is something you unlikely to see anywhere else.

Carlos amazing vocal ability and Aarons flawless harmonies makes this is a show you will not forget.

A fantastic live duo performing the very best of music from 60s to modern hits, including Soul, Pop, Rock and much more are in high demand for weddings and events across the UK.

Brilliant live vocals brought together with a duo of technical and high quality saxophone playing, they are sure to go down a storm at any event, keeping the dancefloor full and your audience in awe.


ACE HOW LONG
AEROSMITH DON'T WANNA MISS A THING
AIR SUPPLY ALLOUT OF LOVE
ALEXANDER O'NIEL CRITISIZE
BACK STREET BOYS AS LONG AS YOU LOVE ME
BACK STREET BOYS LARGER THAN LIFE
BARRY MANILOW EVEN NOW
BARRY MANILOW MANDY
BET MIDLER WIND BENIETH MY WINGS
BILL WITHERS LOVLEY DAY
BILLY JOEL JUST THE WAY YOU ARE
BILLY OCEAN SUDDENLY
BILLY OCEAN LOVE REALY HURTS WITHOUT YOU
BILLY OCEAN WHEN THE GOING GETS TOUGH
BILLY PAUL ME AND MRS JONES
BLUES BROTHERS MINNIE THE MOOCHER
BLUES BROTHERS SWEET HOME CHICARGO
BOB MARLEY THREE LITTLE BIRDS
BON JOVI LIVIN ON A PRAYER
BON JOVI LIVIN ON A PRAYER
BON JOVI YOU GIVE LOVE A BAD NAME
BOWLING FOR SOUP GIRL ALL THE BAD GUYS WANT
BOYZONE BABY CAN I HOLD YOU
BRIAN ADAMS CUTS LIFE A KNIFE
BRIAN ADAMS HEAVEN
BRIAN ADAMS RUN TO YOU
BRIAN ADAMS WHEN YOUR GONE
CANDY DULFER LILLY WAZ ERE
CHICARGO IF YOU LEAVE ME NOW
CHRIS D'BURGH THE LADY IN RED
CHRIS ISACK WICKED GAME
CLIFF RICHARDS WE DONT TALK ANYMORE
CRAIG DAVID SEVEN DAYS
CRAIG DAVID WALKING AWAY
CULTURE CLUB KARMA KAMELION
CURTIS STYGERS ALL THAT MATTERS TO ME
DAVE LEE ROTH JUST A GIGGALO
DAVID GREY BABILON
DEACON BLUE DIGNETY
DEL METRI ROLL WITHME
DEL METRI lAST TO KNOW
DIRE STRAITS SO FAR AWAY FROM ME
DURAN DURAN SAVE A PRAYER
ELTON JOHN NIKITA
ELTON JOHN SOMETHING ABOUT THE WAY YOU LOOK TONIGHT
ELTON JOHN SORRY SEAMS TO BE THE HARDEST WORD
ELTON JOHN THE ONE
ELTON JOHN YOUR SONG
ELTON JOHN IM STILL STANDING
ELTON JOHN GUESS THATíS WHY THEY CALL IT THEBLUES
ELVIS COSTELLO GOOD YEAR FOR THE ROSES
ENRQUIE IGLESIAS HERO
ENRQUIE IGLESIAS BILAMOS
ERIC CLAPTON TEARS IN HEAVEN
ERIC CLAPTON WONDERFUL TONIGHT
EVA CASSADY AINT NO SUNSHINE
FORIENER WAITING FOR A GIRL LIKE YOU
GARY BARLOW FOREVER LOVE
GARY BARLOW HELP ME GIRL
GARY PUCKET YOUNG GIRL
GEORGE BENSON IN YOUR EYES
GEORGE MICHAEL CARELESS WHISPER
GEORGE MICHAEL DON'T LET THE SUN GO DOWN ON ME
GEORGE MICHAEL I CANT MAKE YOU LOVE ME
GEORGE MICHAEL JESUS TO A CHILD
GEORGE MICHAEL KISSING A FOOL
GEORGE MICHAEL ONE MORE TRY
GEORGE MICHAEL FASTLOVE
GEORGE MICHAEL OUTSIDE
GEORGE MICHAEL TOO FUNKY
GEORGE MICHAEL FAITH
HUEY LEWIS AND THE NEWS THE POWER OF LOVE
INXS MYSTIFY
JACKIE WILLSON HIGHER AND HIGHER
JAMES SIT DOWN
JAMES BLUNT BEAUTIFUL
JAMES MORRISON YOU GIVE ME SOMETHING
JERRY RAFETY BAKER STREET
JOE COCKER UNCHAIN MY HEART
JOE COCKER YOU CAN LEAVE YOU HAT ON
JOHN FARNAM THE VOICE
JOHN TRAVOLTER SANDY
JOHN WHATE MISSING YOU
JOHNNY BRISTOL HANG ON IN THERE BABY
JOSHUA CADDISON JESSIE
JOURNEY DON'T STOP BELIEVING
JOURNEY WHOS CRYING NOW
KINGS OF LEON SEX ON FIRE
LEMAR NO JUSTICE IN THE WORLD
LIONAL RITCHIE HELLO
LIONAL RITCHIE STUCK ON YOU
LOU REED WONDERFUL WORLD
LOVE AFFAIR EVERLASTING LOVE
LUTHER VANDROSS ALWAYS AND FOREVER
LUTHER VANDROSS DANCE WITH MY FATHER AGAIN
MARILLION KYLIE
MARK COHN WALKING IN MEMPHIS
MAROON FIVE SHE WILL BE LOVED
MAROON FIVE THIS LOVE
MICHAEL BOLTON DRIFT AWAY
MICHAEL BOLTON HOW AM I SUPPOST TO LIVE WITHOUT YOU
MICHAEL BOLTON LEAN ON ME
MICHAEL BOLTON SOUL PROVIDER
MICHAEL BOLTON WHEN A MAN LOVES A WOMAN
MICHAEL BOLTON TO LOVE SOMEBODY
MICHAEL BOUBLE HOME
MICHAEL BOUBLE QUANDO QUANDO QUANDO
MICHAEL BUBLE LOST
MICHAEL JACKSON SHES OUT OF MY LIFE
MIKE AND THE MECHANICS THE LIVING YEARS
MIKE AND THE MECHANICS OVER MY SHOULDER
MISTER MISTER KYRIE
NAT KING COLE WHEN I FALL IN LOVE
NIEL DIMOND LOVE ON THE ROCKS
OASIS DON'T LOOK BACK IN ANGER
OASIS WONDER WALL
OLETA ADAMS GET HERE
PATRICK SWAZIE SHES LIKE THE WIND
PAUL WELLER YOU DO SOMETHING TO ME
PAUL YOUNG SENZA MADDONA
PETER AUNDRE MYSERIOUS GIRL
PETER CETERA THE GLORY OF LOVE
PETER GABRIEL SLEDGE HAMMER
PHIL COLLINS AGAINST ALL ODDS
PHIL COLLINS SEPARATE LIVES
PRINCE PURPLE RAIN
REM THE ONE I LOVE
REO SPEEDWAGON KEEP ON LOVING YOU
RICHARD MARX RIGHT HERE WAITING
RICK ASTLEY NEVER GOING TO GIVE YOU UP
RICKY MARTAIN LIVIN LA VIDA LOCA
ROBBIE WILLIAMS ROCK DJ
ROBBIE WILLIAMS COME UNDONE
ROBBIE WILLIAMS ETERNITY
ROBBIE WILLIAMS HAVE YOU MET MRS JONES
ROBBIE WILLIAMS SEXED UP
ROBBIE WILLIAMS SOMETHING BEAUTIFUL
ROBBIE WILLIAMS ANGELS
ROBBIE WILLIAMS BETTER MAN
ROBBIE WILLIAMS FEEL
ROBBIE WILLIAMS SHES THE ONE
ROBERT PALMER ADDICTED TO LOVE
ROD STEWART THIS OLD HEART OF MINE
RONAN KEATING WHEN YOU SAY NOTHING AT ALL
SAD CAF… EVERY DAY HURTS
SAM COOK WONDERFUL WORLD
SANTANA SMOOTH
SAVAGE GARDEN TO THE MOON AND BACK
SAVAGE GARDEN TRULY MADLY DEEPLY
SHALAMAR I CAN MAKE YOU FEEL GOOD
SHANE WARD THATíS MY GOAL
SIMPLE MINDS ALIVE AND KICKING
SIMPLY RED IF YOU DONíT KNOW ME BY NOW
SIMPLY RED SOMETHING GOT ME STARTED
SNOW PATROL CHAISING CARS
SPANDEL BALLET TRUE
SPANDEL BALLET FLY FOR YOU
SPANDEL BALLET HIGHLY STRUNG
SPANDEL BALLET GOLD
STATUS QUO ROCKIN ALL OVER THE WORLD
STEVIE WONDER ISN'T SHE LOVELY
STEVIE WONDER LATELY
STYLE COUNCIL YUR THE BEST THING
STYX BABE
TAKE THAT HOW DEEP IS YOUR LOVE
TAKE THAT MILLION LOVESONGS
TAKE THAT A MILLION LOVE SONGS
TAKE THAT BACK FOR GOOD
TAKE THAT LOVE AINT HERE ANYMORE
TAKE THAT RULE THE WORLD
TEN SHARP YOU
THE BEE GEES MORE THAN A WOMAN
THE COMMITMENTS HARD TO HANDLE
THE COMMITMENTS TRY A LITTLE TENDERNESS
THE COMMITMENTS MR PITIFUL
THE COMMITMENTS TAKE ME TO RIVER
THE COMMODORS EASY
THE COMMODORS THREE TIMES A LADY
THE CUTTING CREW DIED IN YOUR ARMS TONIGHT
THE DRIFTERS COME ON OVER TO MY PLACE
THE DRIFTERS UNDER THE BOARDWALK
THE FOUR SEASONS Dec-63
THE FOUR TOPS GOIN LOCO IN ACAPOCO
THE HOOSERS WORRIED ABOUT RAY
THE KILLERS HUMAN
THE KINKS SUNNY AFTERNOON
THE POLICE EVERY BREATH YOU TAKE
THE POLICE EVERY LITTLE THING SHE DOES IS MAGIC
THE REAL THING YOU TO ME ARE EVERYTHING
THE SCRYPT MAN WHO CANT BE MOVED
THE STEREOPHONICS HANDBAGS AND GLADRAGS
THE TEMPTATIONS MY GIRL
THE TEMPTATIONS UNDER THE BOARDWALK
TOM JOANS DELILAH
TOPLOADER DANCING IN THE MOON LIGHT
TOTO HOLD THE LINE
TOTO I WONT HOLD YOU BACK
TOTO OVER YOU
TOTO ROSANNA
U2 THE ONE
U2 WITH OR WITHOUT YOU
VAN HALEN JUMP
VAN MORRISON HAVE I TOLD YOU LATLEY
VAN MORRISON MOONDANCE
WHAM LAST CHRISTMAS
WHAM IM YOUR MAN
WHEATUS TEENAGE DIRTBAG
WHITE SNAKE HERE I GO AGAIN
WHITE SNAKE IS THIS LOVE
WILD CHERRY PLAY THAT FUNKY MUSIC
WILL YOUNG LEAVE RIGHT NOW
WILL YOUNG YOUR LOVE IS KING
And many many more
Travel
UK | Nationwide | Europe
First Choice Holidays
Pontins
Haven
Park Resorts
Warner Hotels
Corporate and Private Events
Weddings and many many more
Reviews of Saxed!
Ian Reid from Flint Golf Club booked Saxed! for an event.

Saxed Up were at our club and we just wanted to let you know that they were superb and the audience didnt want them to finish. Another great night. Thanks again.

---
Make Enquiry for Saxed! Now!