Dalya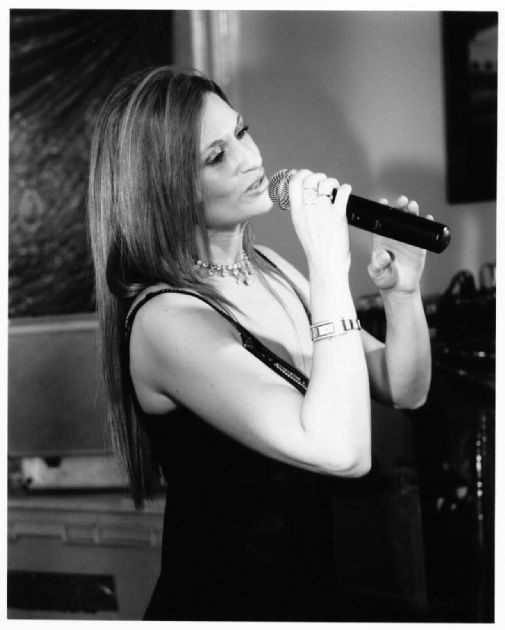 Dalya
Vocalist & Musician
Perfect for Weddings, Corporate Events & Parties
Available as Male & Female Duo
Highly Recommended
Full Public Liability and PAT Testing
Available UK Nationwide
Dalya is a Fantastic Vocalist Ideal for Weddings, Corporate Events, Private Parties, Live Music Venus and more!

Dalya began performing professionally after graduating from the Liverpool Community College with a HND in 'Music as a Performing Art'. She is also a talented multi-instrumentalist, playing piano, violin and Irish whistle.

Having a superb singing voice with a fantastic octave range, she is capable of a huge variety of songs to suit any audience and can adapt to any size of venue for different occasions.

Rob and Al Fennah of 'Pulse Records & Productions' have taken a great interest in Dalya – she performed with them as backing singer and musician in the musical 'Twopence to Cross the Mersey', which has been staged four times at the Liverpool Empire. Dalya also sang the lead and backing vocals on the C.D., album from the show.
Dalya is always in great demand at Cabaret venues throughout the North West, gaining a gratifying amount of repeat bookings for her very classy and fresh appeal. As a consequence, her diary fills up fast and she has also performed at the following prestigious events;
The Merseyside 'Woman of the Year' awards 2004 , 2005 & 2009 at which she performed songs from 'Twopence to Cross the Mersey'
The Afternoon Show on Granada T.V.
As the 'Star Guest' at the regional finals of Southport Search for a Star 2005
The grand re-opening of Liverpool's Central Hall
Music & Laughter at the Liverpool Empire Theatre 2011
Dalya's repertoire includes pop, rock, country & western, classics and songs from the shows. New numbers are continually being added; very often while they are still climbing the charts – if it is number one today, Dalya was singing it yesterday!
Her show is completely self-contained and includes a complimentary (not distracting!) light show. Dalya takes particular pride in her technical ability – using a powerful McGregor sound system with the latest cortex/digital/wireless technology and ensuring that the sound levels are crisp and just right for each venue. She also has £10,000000 public liability cover for her stage equipment.

A good reputation is very important with agents and concert secretaries alike and Dalya has gained an excellent standing with both. She is always professional, on time and gives 100% with every performance. Her material is extensive and she can provide any set combination to suit.

Dalya has performed at many events raising money for charity and in July 2014 she climbed Mount Kilimanjaro raising over £9300.00 for 4 charities

THE PROMISE Girls Aloud
HERO Mariah Carey
I'LL STAND BY YOU The Persuaders
STUCK IN THE MIDDLE Steelers Wheel
MERCY Duffy
MURDERER Rhianna
NEW SHOES Paola Nutini
UP The Saturdays
FEELING GOOD Pussycat Dolls
CHASING PAVEMENTS Adelle
VALERIE Amy Winehouse
The Carpenters
WE'VE ONLY JUST BEGUN
SUPERSTAR
WAIT A MINUTE MR POSTMAN
TOP OF THE WORLD
RAINY DAYS & MONDAYS
SONG BIRD Eva Cassidy
SOMEWHERE OVER THE RAINBOW Eva Cassidy
GET HAPPY Judy Garland
WIND BENEATH MY WINGS Bette Midler
SWAY Dean Martin/Pussycat Dolls
I'M LIKE A BIRD Nelly Furtado
Shania Twain
DON'T BE STUPID
WHOSE BED HAVE YOUR BOOTS BEEN UNDER?
MAN I FEEL LIKE A WOMAN
HOLDING ON TO LOVE
GET YOU GOOD
YOU'RE STILL THE ONE
THAT DON'T IMPRESS ME MUCH
HONEY I'M HOME
I'M OUTA HERE!
ROCK THIS COUNTRY
IF IT DON'T TAKE TWO
FROM THIS MOMENT
BLACK VELVET Alanah Miles
OUT HERE ON MY OWN (from the musical 'Fame')
ABBA MEDLEY Abba
HOW DO I LIVE? Leanne Rimes
CAN'T FIGHT THE MOONLIGHT Leanne Rimes
MUSTANG SALLY The Commitments
I THINK WE'RE ALONE NOW Tiffany
REACH FOR THE STARS S Club 7
RIVER DEEP MOUNTAIN HIGH Tina Turner
PERFECT MOMENT Martine McCutcheon
ALL I WANNA DO Sheryl Crow
(from Twopence to Cross the Mersey)
THIS BURNING FLAME
WHEN NO ONE ASKS YOU TO DANCE
PREACHER MAN Dusty Springfield
THERE YOU'LL BE Faith Hill
WALKING ON SUNSHINE Katrina & the Waves
LADIES NIGHT Attomic Kitten
BREATHLESS The Corrs I I NEVER LOVED YOU ANYWAY The Corrs
WARWICK AVENUE Duffy
CRAZY CHICK Charlotte Church
DANCING ON THE CEILING Lionel Ritchie
WALKING IN MEMPHIS Cher
NOBODY DOES IT BETTER Carly Simon
YOU HAD ME Joss Stone
LETS GET LOUD Jennifer Lopez
SUDDENLY I SEE KT Tunstall
WHENEVER, WHEREVER Shakira
MERRY XMAS EVERYONE Shakin' Stevens
and others
Travel
UK Nationwide | Europe | Worldwide
The Merseyside 'Woman of the Year' awards 2004
2005 & 2009 at which she performed songs from 'Twopence to Cross the Mersey'
The Afternoon Show on Granada TV
As the 'Star Guest' at the regional finals of Southport Search for a Star 2005
The grand re-opening of Liverpool's Central Hall
Make Enquiry for Dalya Now!