Andy O - Swing & Rat Pack Singer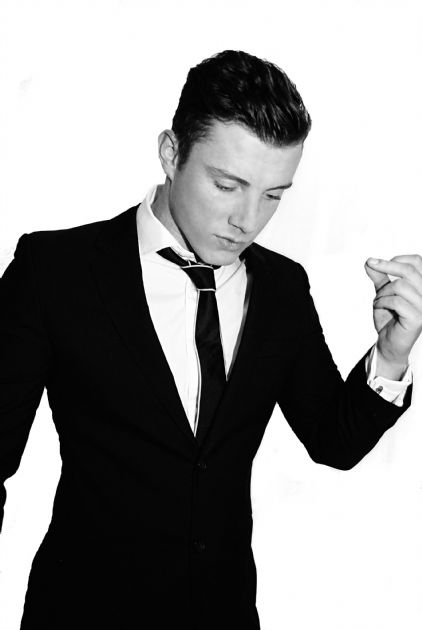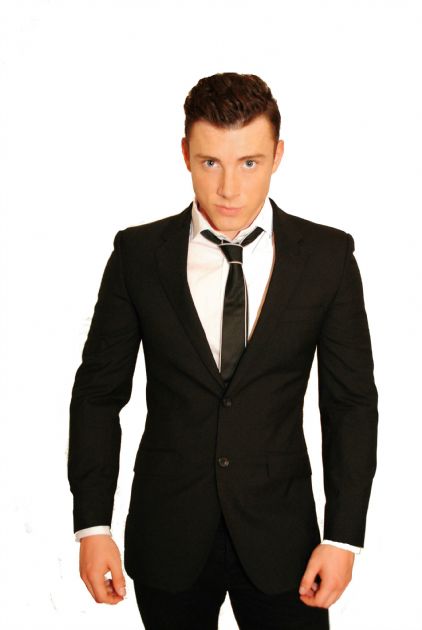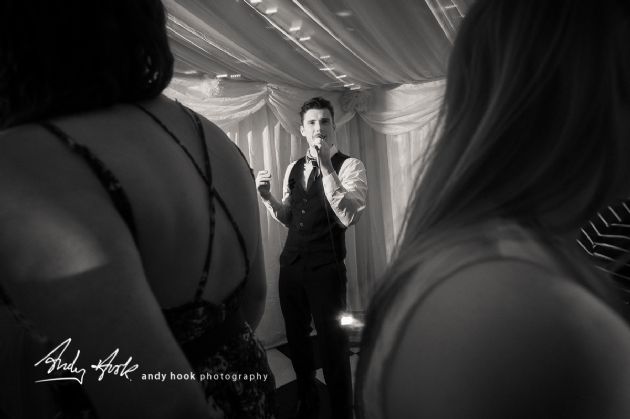 Andy O - Swing & Rat Pack Singer
Fantastic Singer
As Seen on BBC TV's The Voice
Perfect for Weddings, Events & Parties
Highly Recommended, Popular Artiste
Michael Buble Tribute Available
60's to Current Charts Sets also Available
Full Public Liability and PAT Testing
Available UK Nationwide
Andy O is a young, modern Swing & Rat Pack Singer with an excellent, smooth swing voice performing all the classic, timeless Swing & Rat Pack hits and also including the popular songs covered by Michael Buble

Andy has performed at venues, parties, events and weddings throughout the UK and Europe with clients and venues providing excellent feedback on his performance and lots of re bookings!

Andy is happy to tailor his set list to suit your individual requirements and would be honoured to sing your first dance song at your Wedding should you require. He can also offer a range of entertainment packages including a professional DJ/Disco option and these packages can also be amended to suit your entertainment requirements. He uses quality sound equipment to ensure his performance can be fully enjoyed by your guests or audience

Andy is a professional, reliable, very talented and a great guy to work with and we can highly recommend booking him for your Venue, Event, Party or Wedding!

Your just too good to be true - Andy Williams
Mack the knife - Bobby Darin
Somewhere beyond the sea - Frank Sinatra
Come fly with me - Frank Sinatra
Moondance - Michael Buble
Me & Mrs Jones - Michael Buble
Mr Bojangles - Sammy Davis Jr.
I've got you under my skin - Frank Sinatra
Fly me to the moon - Frank Sinatra
Ain't that a kick in the head - Dean Martin
You make me feel so young - Frank Sinatra
Home - Michael Buble
To love somebody - Michael Buble
Blue moon - Grease
Smile - Charlie Chaplin
That's Amore - Dean Martin
Portrait of my love - Matt Monro
Sway - Michael Buble
Runaround sue - Dion & The Belmonts
Save the last dance for me - Michael Buble
Crazy little thing called love - Michael Buble
New York New York - Frank Sinatra
One for my baby - Frank Sinatra
Volare - Dean Martin
That's life - Michael Buble
The lady is a tramp - Frank Sinatra
Crazy - Patsy Cline
My way - Frank Sinatra
When a man loves a woman - Michael Bolton
Travel
UK Nationwide | Europe | Worldwide
BBC TV - The Voice
London Palladium
Her Majesty`s Theatre
Warner Hotels
Haven Holidays
Park Resorts
Casinos
Hilton Hotels
Shire Hotels
Village Hotels
Live Music Venues
Corporate Events
Weddings
Private Parties and more
Reviews of Andy O - Swing & Rat Pack Singer
Mr and Mrs Whitehead hired Andy Otley to perform at their wedding St Edwards Church Hall, Oldham

We booked Andy to sing at our recent wedding reception and he was brilliant! In the lead up to the event Andy called to introduce himself and ask if we had any special requests and timings etc... His performance on the night was fantastic and my Mum said she didn't even realise it was a live singer as it was so good! Our son and his cousins who are only 5 years old loved him too and I remember seeing them swinging off his arms whilst he was singing! Many singers wouldn't have tolerated this but Andy was lovely with them and it did not affect his performance one bit! Many of our friends and family were asking who he was and how we came across him and so I would certainly recommend to anyone thinking of hiring a singer at an event. Thanks again Andy for making our wedding reception so enjoyable

---

Fran & Gary hired Andy to perform at their wedding for Adam and Jodie's wedding at Boringdon Golf Club

I want to THANK YOU for singing and performing at Adam & Jodie's wedding in Plymouth, Saturday 29th July. We've had great feedback from all our friends and family and can't thank you enough for helping to make the wedding a huge success and a day to remember! You traveled a very long way and got the party atmosphere started as soon as you arrived! I hope you enjoyed the day too and got home safely. Thank you once again

---

Jenny & Ian hired Andy to perform on their wedding day

All I can say is, I'm so glad I persuaded my fiancé that it would be a good idea to cancel the DJ and hire Andy Otley as our Wedding Singer instead!! As soon as he heard Andy sing 'Superstitious' on YouTube, Ian my husband was sold!! And this became one of the best decisions we made for our wedding day. From first communication through to the end of our wedding day, Andy was so professional. He arrived in plenty of time for set up and began the evenings music playlist, getting everyone in the mood for the evening celebrations, without having to be asked. He looked great, well turned out, happy and enthusiastic about performing for our wedding. He was so approachable about when would be the best time to perform our first dance, which was absolutely incredible!! It really made our night, he sang it so beautifully. He then continued to sing one great song after another, getting everyone up on the dance floor with a superb mix of songs both old and new. All the guest commented throughout the evening, and still do, on just how great the singer was! This made the day even better because it was just so important for us that everyone, as well as ourselves, had a great time. I can't recommend Andy enough for the amazing job he did and would definitely use him again for any future events. Thank you so much for making our day just that extra bit special.

---

Owena Perrin, mother of the bride, hired Andy to perform on her daughter's wedding day at Shooters Hill Hall, Shropshire

Just wanted to say a massive THANK YOU for performing at our wedding at Shooters Hill Hall. After searching online for the perfect singer to perform we came upon your promo video on YouTube – WOW!!! We knew then that you were 'the one'! Luckily for us you were available on the day of the wedding. It was very reassuring when you called a couple of days beforehand to find out what kind of music we liked and what we expected from your performance on the night. From start to finish you were brilliant! Soft music (Ratpack) for the wedding breakfast and in the evening performing our chosen first dance right through to knowing exactly what would get everyone dancing! We had so many compliments about how good you were from friends and family of all ages. I would highly recommend you for any special occasion and wouldn't hesitate to hire you again. You were amazing! Thanks again for an amazing day and nights entertainment and the memories!

---

Kev & Ash booked Andy for their Wedding

Thanks again for being such a special part of our wedding on Saturday. Throughout the day and indeed since, our guests have been saying how much they enjoyed your sets. You've a great voice and a winning smile and clearly a born entertainer! Right from the communications beforehand up until the 2am finish you were so friendly, enthusiastic and attentive really adding to our experience and making a special day all the more perfect. Never stop smiling and thank you for everything.

---

Andy Otley performed at Andy & Lorraine's surprise 50th birthday party at Hampton Manor, Solihull.

Just wanted to say a huge THANK YOU for performing for us at Hampton Manor on Friday. Firstly, it was very reassuring when you called me a couple of days beforehand to find out what kind of music we liked and what we expected from your performance on the night. Well, I have to say that you far exceeded our expectations and everyone was totally blown away when you burst into song and filled the room with "Feeling Good" Michael Buble style!!! Literally, half the guests were speechless for a while! Everybody had a wonderful time and you really did get the party started. You were a joy to deal with from the outset, an absolute gentleman with us and all our guests, a fabulous performer and a very talented young man. We would book you again in a heartbeat and just hope that you don't get so famous that you can't fit us in!!! We will be seeing you again very soon!

---

Stephen and Danielle McCoy hired Andy to perform at their wedding at Thornton Hall Hotel & Spa, The Wirral.

I would just like to say a special thank you for making our day even more special than it already was! From start to finish you were brilliant! Soft music (Ratpack) for the reception drinks and then after the wedding breakfast and into the evening, you then performed the more lively music set that all our guests thoroughly enjoyed dancing to. You were amazing! Great voice and a top Dj as well for later in the evening! Thanks again for an amazing day an nights entertainment and the memories! If we have any more parties we will be sure to ask you!

---

Joanne & Paul hired Andy to perform at a Masonic Ladies Event at The Hallmark Hotel, Cambridge

Thank you for a fabulous evening of entertainment on Saturday at the Nore Command Ladies Weekend in Cambridge. We all had a fantastic time. We will definitely contact you for our next event.

---

Olivia & Jack booked Andy for their wedding

We had an amazing wedding day and having Andy perform just topped it off! Great entertainer, had everyone on the dance floor and every song that was requested by my guests he played! 5* performance, will definitely recommend Andy to all our future bride and groom friends! Thanks again!

---

Laura & Luke booked Andy for their Wedding

We are just back from honeymoon and wanted to catch up to say a huge Thank you for performing at our wedding in July. You travelled so far and made sure you reassured us that you had arrived early by coming to find us on the day which we really appreciated. You took care of everything and were really helpful in our chat in the week before the wedding. Our guests were dancing all night and the dance floor was never empty! I know that they particularly enjoyed you playing their requests and you were more than happy to play the best songs from our playlist sent to you before the wedding! I would definitely recommend you to anyone who was planning a wedding, party or occasion as you really helped us to have the best night! You even got the most dance- floor shy guests up! Thank you so much for everything!

---

David and Maria Meek hired Andy to perform at their wedding at the Shillingford Bridge Hotel in Oxford.

Andy performed at our wedding in Oxford. From the first moment I spoke to Andy I could tell how much of a gentleman he was. I watched and listened to his clips and knew he was the one we wanted for our wedding. One of our main requests was that Andy would sing our first dance. Andy didn't know the song so he learnt it for us. During the first dance my bestman had the duty to pop an exploring balloon which needed to done at exactly the right moment and Andy was able to give him a nod, it worked flawlessly. Andy worked very well with our DJ and was even dancing with some of the kids. Andy it was an honour to have you sing at our wedding. You have an amazing voice and you are such a nice guy. Everybody loved you and we even have guests talking about trying to hire you. I know someday soon you will performing to sold out crowds in the 02, we are so please to have got to meet you.

---

Toni Hired Andy for a charity dinner at Braintree Golf Club

On behalf of Braintree golf club I would like to say a big thank you for a fantastic night at our clubs annual charity dinner. You were kind enough to contact me in advance and discuss the arrangements with me so I didn't have to worry about anything to do with our entertainment. You arrived on the day early as promised which was such a relief for me as we had been let down a few times by other artists. You set up in the dance area quietly and just got in with it, even when you had to move your set due to electrical problems you didn't make a fuss and just got on with it. Then when we got to you singing...well fantastic your choice of music was excellent, you catered for everyone at the club, the older people were able to start dancing to the music they knew the Rat Pack, etc and then you boomed out some great songs which had everyone up and dancing. The members are still talking about you know and how much they enjoyed it, I know that the incoming Vice Captain is very keen to get you back at the club for some of his function and I will back him 100% in getting you back. You are such a polite and professional young man, you did everything you could to ensure I didn't have to worry and more importantly our members had a good time and loved you and your talented voice. Overall if I had to score you out of a 100 it would be 200/100 you made a great night for all of us. I do hope that we get you back to the club soon you were an absolute hit with everyone and I wish you all the success in the world as you are a very talented young man and deserve your rewards. Would I recommend you to others........ABSOLUTELY, It was a YES from me, a YES from the committee and a YES from our members. Take care and good luck in everything you do. Kind regards Toni

---

Aimee - Events Manager at The Red House - booked Andy Otley - Swing & Rat Pack Singer for an Event at The Red House, Marsh Benham

Hi Andy, Thank you for a wonderful evening, our customers had a fantastic night! The atmosphere was brilliant, everyone said what a great time they had and what a great performance! Thanks again Aimee Events Manager The Red House Marsh Benham

---
Make Enquiry for Andy O - Swing & Rat Pack Singer Now!