Manchester String Quartet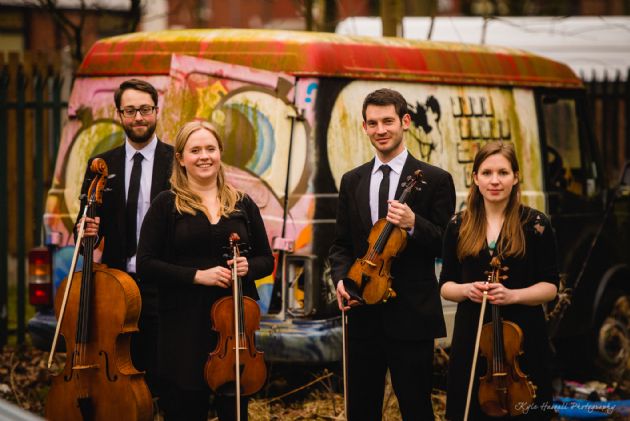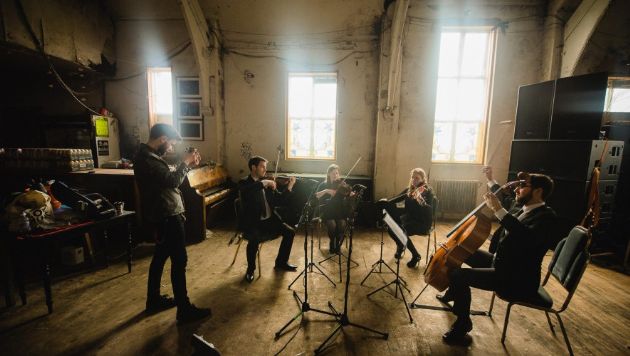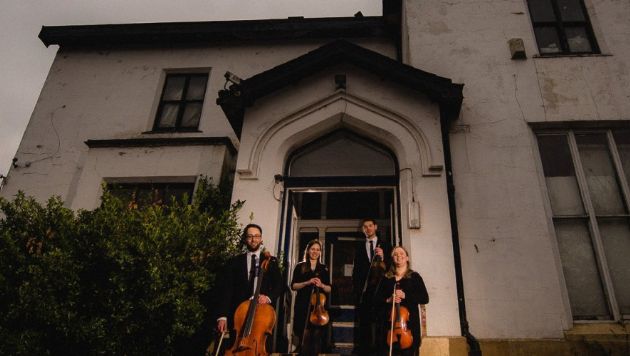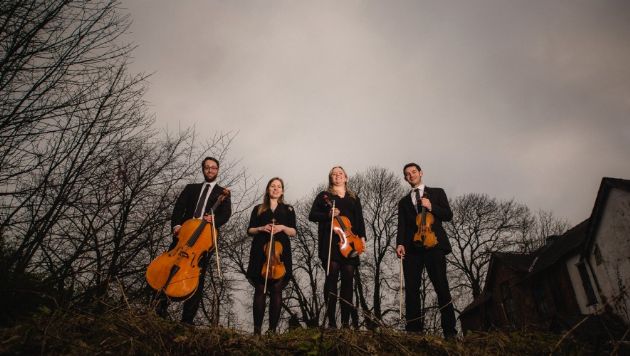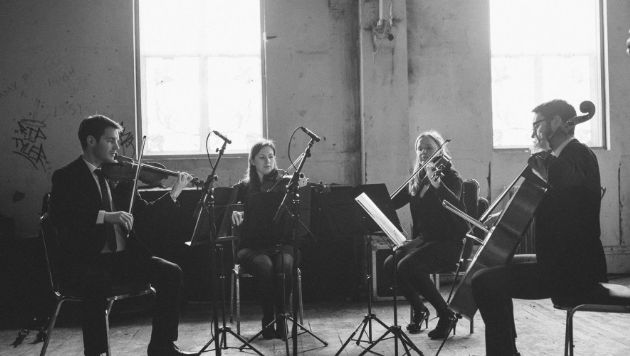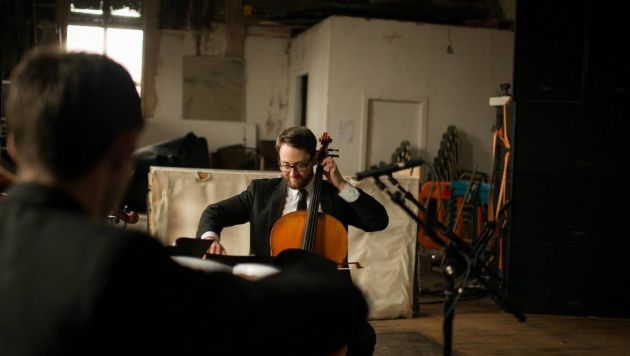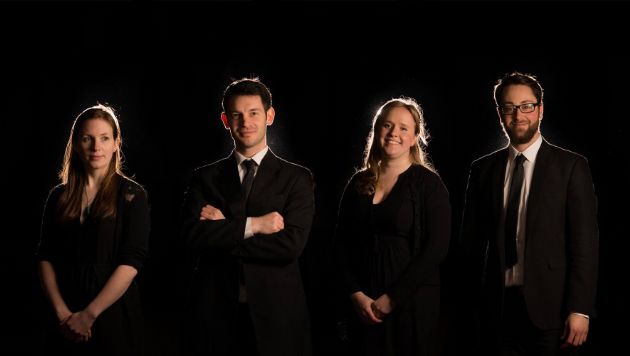 Manchester String Quartet
String Quartet for events
Perfect for Weddings, Events & Parties
Recommended Artistes
Classical and Contemporary Sets Available
Full Public Liability & PAT Testing
Available UK Nationwide
The Manchester String Quartet have years of experience playing at weddings, parties, corporate events and lots more! Entertaining a vast array or audiences up and down the UK.

The musicians of the quartet have made numerous television and radio appearances, such as featuring on BBC One, BBC Radio 4, Channel 5, the X Factor and Britain's Got Talent.

Adding a touch of class to your event, the Manchester String Quartet will provide you with music of the highest quality covering an endless number of genres to please every audience.

The quartet's repertoire list is very extensive, allowing you to choose what you would like played. Alternatively, the choice can be left to the quartet. Music choices feature popular classical, jazz, ragtime, film/TV and pop works, ranging from Bach to Britney Spears!

They cater for requests at events, and will even arrange something extra for your special day if it is not already on their repertoire list. This quartet really do go above and beyond to cater for every client and offer a real bespoke service.

Contact Garston Entertainments Ltd today for further information and to book!

Classical
Adagio – Albinoni
Adagio for Strings – Barber
Air - Bach
Arrival of the Queen of Sheba – Handel
Autumn - Vivaldi
Ave Verum Corpus – Mozart
Barcarolle - Offenbach
Brandenburg Concerto No. 3 – Bach
Bridal March "Here Comes the Bride" - Wagner
Canon - Pachelbel
Cantabile - Tartini
Chanson De Matin – Elgar
Chanson De Nuit – Elgar
Clair de Lune – Debussy
Concerto for Two Violins – Bach
Con te Partiro (Time to Say Goodbye) – Sartori
Cumparsita, La - Rodriguez
Dance of The Hours – Ponchielli
Danse des Mirlitons - Tchaikovsky
Divertimento No. 1 in D – Mozart
Divertimento No. 2 in B Flat – Mozart
Divertimento No. 3 in F – Mozart
Eine Kleine Nachtmusik – Mozart
First Polovtsian Dance – Borodin
Flower Duet – Delibes
The Four Seasons – Vivaldi
Funiculi Funicula - Denza
The Girl with the Flaxen Hair – Debussy
Humoresque - Dvorak
Hungarian Dance – Brahms
Intermezzo from Cavalleria Rusticana – Mascagni
Jealousy Tango - Gade
Jesu, Joy of Man's Desiring – Bach
La Rejouissance – Handel
Largo from Violin Sonata in D – Handel
Largo from "Winter" – Vivaldi
March in D – Handel
Mc Mozart's Eine Kleine Bricht Moonlicht Nicht Musik - Bor
Nessun Dorma - Puccini
Nimrod from Enigma Variations – Elgar
O Sole Mio – Rinaldo di Capua
Palladio - Jenkins
Pavane – Faurι
Pizzicato Polka – Strauss
Prelude to Carmen – Bizet
Romance from The Gadfly – Shostakovich
Rondeau – Mouret
Salut d'amour - Elgar
Sheep May Safely Graze – Bach
Sleeping Beauty Waltz – Tchaikovsky
Stars and Stripes Forever – Sousa
Tango from Espana Op. 165 – Albιniz
Trδumerei – Schumann
Trout, 4th Movement - Schubert
Trumpet Tune – Purcell
Trumpet Voluntary - Purcell
Two Rondeaux - Purcell
Upstairs Downstairs – Faris
Vocalise – Rachmaninoff
Water Music – Handel
Wedding March – Mendelssohn
Anything Goes – Porter
Come Fly With Me – Van Heusen
Country Club – Joplin
The Entertainer – Joplin
Let's Do It - Porter
Makin' Whoopee – Donaldson
Moonlight in Vermont - Suessdorf
My Funny Valentine – Rodgers
New York, New York – John Kander
Paragon Rag – Joplin
Palm Leaf Rag - Joplin
Pennies from Heaven - Johnson
Ragtime Dance - Joplin
The Way You Look Tonight – Kern
Contemporary
A Thousand Years – Christina Perri
Alejandro – Lady Gaga
All of Me – John Legend
All Star – Smash Mouth
All You Need is Love – The Beatles
At Last – Etta James
Baby One More Time – Britney Spears
Barbie Girl – Aqua
Beethoven's Five Secrets – The Piano Guys
Best Song Ever – One Direction
Beyond the Sea – Lawrence/Trenet
Birds and Ships - Billy Bragg & Wilco ft. Natalie Merchant
Bitter Sweet Symphony – The Verve
The Blower's Daughter – Damien Rice
Call Me Maybe – Carly Rae Jepsen
Can You Feel the Love Tonight – Elton John
Can't Help Falling in Love – Elvis Presley
Can't Take My Eyes off You – Frankie Valli
Carry On My Wayward Son – Kansas
Chasing Cars – Snow Patrol
Crack the Shutters – Snow Patrol
Cry Me a River – Michael Bublι
Danny Boy (Londonderry Air) – Frederic Weatherly
The Devil Went Down To Georgia – Charlie Daniels
Don't Stop Believing – Journey
Don't Stop Me Now - Queen
Don't Wanna Miss a Thing – Aerosmith
Everlasting Love – Love Affair
Eyes Open – Taylor Swift
Feeling Good - Muse
First Day of My Life – Bright Eyes
Fix You – Coldplay
Games That Lovers Play – James Last Orchestra
God Only Knows – Beach Boys
Good Thing – Reel Big Fish
Get Lucky – Daft Punk
Greatest Day – Take That
Halo – Beyonce
Hallelujah – Cohen/Buckley
Here Comes the Sun – The Beatles
Heroes – David Bowie
Hey, Soul Sister – Train
Higher and Higher – Jackie Wilson
Ho Hey – Lumineers
Hoppνpolla – Sigur Rσs
How Long Will I Love You – Ellie Goulding
Hung Up - Madonna
I Gotta Feeling – Black Eyed Peas
I Say A Little Prayer – Aretha Franklin
I Want To Break Free – Queen
I Want You Back – Jackson 5
If You're Fond of Sand Dunes and Salty Air – Groove Armada
I'm Yours – Jason Mraz
In My Life – The Beatles
Isn't She Lovely – Stevie Wonder
It Had To Be You – Khan/Jones
It Must Be Love – Madness
It's Not Unusual – Tom Jones
Just the Way You Are – Bruno Mars
Kashmir – Led Zeppelin
Kiss Me – Sixpence None the Richer
Kissing You – Des'ree
Kung Fu Fighting – Carl Douglas/Cee-Lo Green
Let Her Go – Passenger
Locked Out of Heaven – Bruno Mars
The Long and Winding Road – The Beatles
Love and Marriage - Van Heusen
Make You Feel My Love – Bob Dylan/Adele
Marry You – Bruno Mars
Medley (Back in Black; Highway to Hell; Thunderstruck) – AC/DC
Mr. Brightside – The Killers
My Girl – The Temptations
Nightswimming – R.E.M
One Day Like This – Elbow
Only Love – Ben Howard
Paradise – Coldplay
Rather Be – Clean Bandit
Rule the World – Take That
Safe and Sound – Taylor Swift
Scar Tissue – Red Hot Chilli Peppers
Sex on Fire – Kings of Leon
Shake It Off – Taylor Swift
She – Elvis Costello
She's Always A Woman – Billy Joel
Sir Duke – Stevie Wonder
Skinny Love – Birdy
Smile – Charlie Chaplin
Smooth Criminal – Michael Jackson
Someone Like You – Adele
Somewhere Over the Rainbow - Israel Kamakawiwo'ole
Songbird – Eva Cassidy
Star Star – The Frames/Glen Hansard
Starαlfur – Sigur Rσs
Stay With Me – Sam Smith
Sweet Child of Mine – Guns N' Roses
Sweet Home Alabama – Lynyrd Skynyrd
Take Me to Church – Hozier
Take Over the World – The Courteeners
Toxic – Britney Spears
True Love – Cole Porter/Crosby/Kelly
Twist and Shout – The Beatles
Two Become One – Spice Girls
Unforgettable – Irving Gordon/Nat King Cole
Uptown Funk – Mark Ronson ft. Bruno Mars
Uptown Girl – Westlife/Billy Joel
Viva La Vida – Coldplay
Wake Me Up – Avicii
Wake Me Up When September Ends – Green Day
Waterloo Sunset – The Kinks
What a Wonderful World - Weiss
Whatever - Oasis
When I'm Sixty Four – The Beatles
Wonderful Tonight – Eric Clapton
Wouldn't It Be Nice – Beach Boys
Yellow – Coldplay
Young and Beautiful – Lana Del Rey
Your Song – Elton John
You're My Best Friend - Queen
Musical/Film
A Thousand Years (Twilight: Breaking Dawn) – Christina Perri
A Whole New World (Aladdin) – Alan Menken
All I Ask of You (The Phantom of the Opera) – Andrew Lloyd Webber
Bare Necessities (The Jungle Book) – Terry Gilkyson
Be Our Guest (Beauty and the Beast) – Alan Menken
Bella's Lullaby (Twilight) – Carter Burwell
Bring Him Home (Les Misιrables) – Schφnberg
Can You Feel the Love Tonight (The Lion King) – Elton John
Concerning Hobbits (The Lord of the Rings/The Hobbit) – Howard Shore
Do You Want To Build A Snowman (Frozen) – Robert Lopez
Doctor Who – Ron Grainer
Don't Wanna Miss a Thing (Armageddon) – Aerosmith
Everything Is Awesome (The Lego Movie) – Patterson
Family Guy Theme – Walter Murphy
Fawlty Towers Theme – Dennis Wilson
Finding Nemo Main Theme – Thomas Newman
Friend Like Me (Aladdin) – Alan Menken
Gabriel's Oboe (The Mission) – Ennio Morricone
Game of Thrones Theme - Ramin Djawadi
Glasgow Love Theme (Love Actually) – Craig Armstrong
Ghostbusters Theme – Ray Parker, Jr.
Godfather Love Theme – Ennio Morricone
Goldfinger (James Bond: Goldfinger ) – John Barry
Ground Force Theme – Jim Parker
Happy Working Song (Enchanted) – Alan Menken
Harry Potter Themes – John Williams
Home Alone Theme – John Williams
I See the Light (Tangled) – Alan Menken
In Search Of Grace – Theo Vidgen
Jai Ho (Slumdog Millionaire) – Rahman
Kiss the Girl (The Little Mermaid) – Alan Menken
Let It Go (Frozen) – Robert Lopez
Life's A Happy Song (The Muppets Movie) – Bret McKenzie
Love Is an Open Door (Frozen) – Robert Lopez
Love Theme (Cinema Paradiso) – Ennio Morricone
Maria (West Side Story) – Leonard Bernstein
Married Life (Up) - Michael Giacchino
Merry Christmas, Mr. Lawrence - Ryuichi Sakamoto
The Muppet Show Theme – Jim Henson
Music of the Night (Phantom of the Opera) – Andrew Lloyd Webber
The Office Theme (USA) – Jay Ferguson
Part of Your World (The Little Mermaid) – Alan Menken
PM's Love Theme (Love Actually) – Craig Armstrong
Portuguese Love Theme (Love Actually) – Craig Armstrong
Prince Ali (Aladdin) – Alan Menken
Pure Imagination (Charlie and the Chocolate Factory) – Leslie Bricusse
Raiders March (Indiana Jones) – John Williams
The Simpsons Theme – Danny Elfman
Star Wars Imperial March – John Williams
Super Mario Bros. Theme – Koji Konjo
Superman Main Theme – John Williams
Tale as Old as Time (Beauty and the Beast) – Alan Menken
This Is Halloween (The Nightmare Before Christmas) – Danny Elfman
True Love's Kiss (Enchanted) – Alan Menken
Under the Sea (The Little Mermaid) – Alan Menken
When Will My Life Begin (Tangled) – Alan Menken
When You Wish Upon a Star (Pinocchio) – Leigh Harline
You've Got A Friend In Me (Toy Story) – Alan Menken
Christmas
All I Want for Christmas – Mariah Carey
Christmas Carols – Assorted Traditional
Christmas Song (Merry Christmas to You) - Nat King Cole
Deck the Halls – Trad.
Do They Know It's Christmas? – Bob Geldof/Midge Ure
Ding Dong! Merrily On High – Trad.
Fairytale of New York – The Pogues
Have Yourself A Merry Little Christmas – Hugh Martin/Ralph Blane
Here Comes Santa Claus – Gene Autry
Home Alone Theme – John Williams
It's the Most Wonderful Time of the Year - Pola and Wyle
Jingle Bells – James Lord Pierpont
Last Christmas – Wham!
Silent Night – Franz Gruber
Sleigh Ride - Leroy Anderson
Tomorrow Shall Be My Dancing Day – Trad.
We Wish You A Merry Christmas – Trad.
White Christmas - Irving Berlin
Travel
UK Nationwide | Europe | Worldwide
AstraZeneca
Radisson Blu
British Gas
Hotel Football
Just Eat
Co-operative
Hotels
Theatres
Corporate Events
Private Functions
Parties
Weddings
Restaurants
Festivals
Venues
Reviews of Manchester String Quartet
Make Enquiry for Manchester String Quartet Now!