Andy O & His Band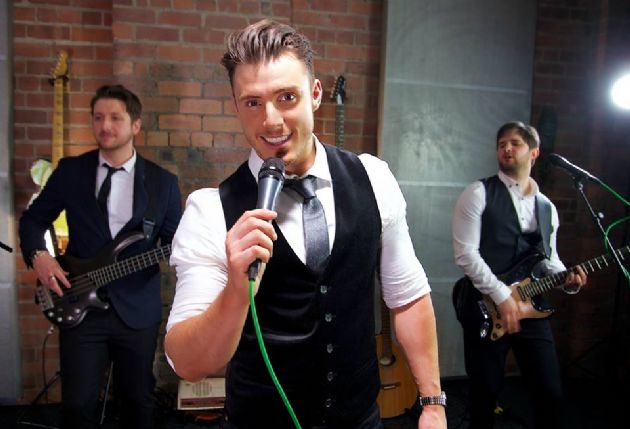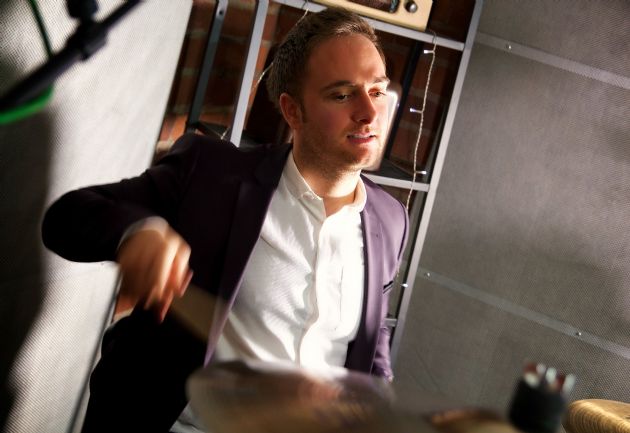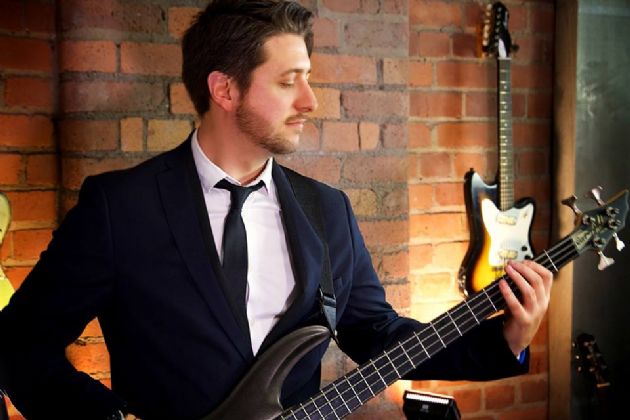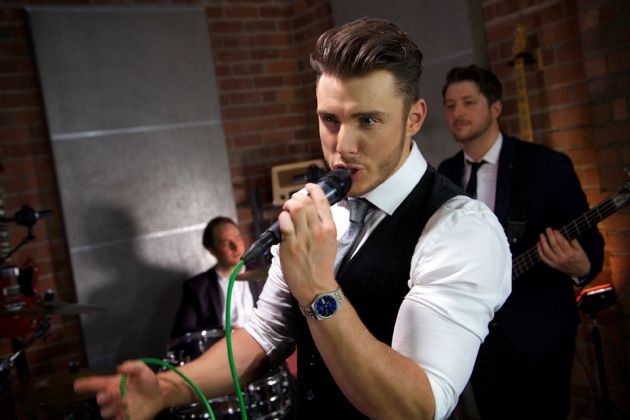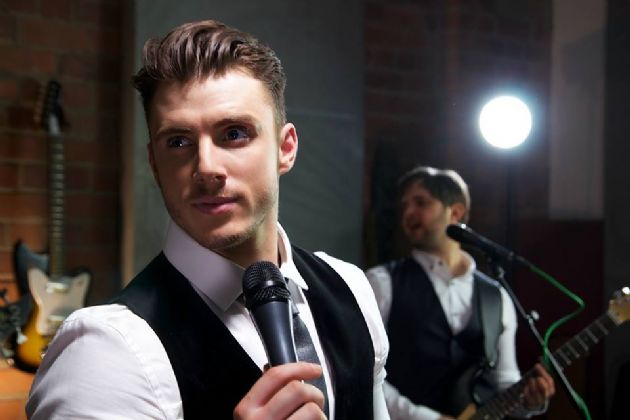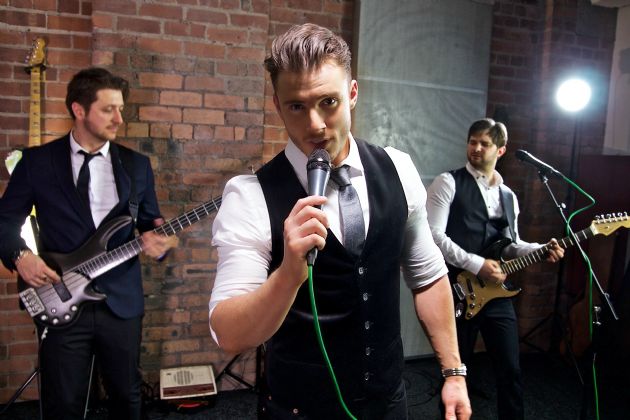 Andy O & His Band
Modern Live 4 Piece Band
Andy appeared on BBC TV's The Voice
Perfect for Weddings, Events & Parties
Highly Recommended, Popular Band
Music from 60's to Current Charts
Full Public Liability and PAT Testing
Available UK Nationwide
Andy O & His Band are a Brilliant 4 Piece, Modern Live Band perfect for Weddings, Corporate Events & Functions.

Fresh on the scene and making a huge impact, Andy is a premium quality male vocalist with an extensive collection of songs for any occasion. He has been working as a professional singer for the past six years, regularly entertaining audiences at weddings, corporate events and private parties.

Some of Andy's career highlights include: Performing at the London Palladium, appearing on The Voice UK and singing at top corporate events all over the UK & Europe, not to mention having the honour of being requested to perform at so many beautiful weddings.

Andy has worked closely with legendary comedian, his Uncle, Sir Ken Dodd who's energy, experience, talent and unparalleled work rate has clearly been of great influence to his performance and professionalism.

In 2015, Andy put together an exceptional group of experienced, stylish and extremely talented musicians to perform with him as a band, adding another dimension to his live performances. The band has been a huge success and is now one of the UK`s leading and most in demand function bands.

We can highly recommended hiring Andy O & his Band for your Venue, Corporate Event, Wedding or Private Function!
Artistes the band cover!
Ed Sheeran
Bruno Mars
Stevie Wonder
Take That
Olly Murs
Pharrell Williams
The Killers
Oasis
Avicci
Kings Of Leon
One Direction
The Police
Journey
Bryan Adams
The Real Thing
Michael Jackson
Michael Buble
The Beatles
Phil Collins
and many more
Travel
UK Nationwide | Europe | Worldwide
BBC TV - The Voice
London Palladium
Her Majesty`s Theatre
Warner Hotels
Haven Holidays
Park Resorts
Casinos
Hilton Hotels
Shire Hotels
Village Hotels
Live Music Venues
Corporate Events
Weddings
Private Parties and more
Reviews of Andy O & His Band
Laura booked Andy & His Band to perform at her wedding

Wow!! What can I say. Andy and his band were just superb when they performed at our wedding just over a week ago. Andy arrived nice and early to set up and played 2 x 45 minute sets. Andy sang a good mixture of old classics and modern songs and had everyone up dancing. Everyone commented on how good the band were. I was a little apprehensive, as I had not heard Andy and the band sing live, only what I had seen and heard on YouTube but I didn't need to worry as they were so much better than what I could have anticipated and booking them for our wedding was the best thing we did. It made the evening reception so much better having the live band and everyone really enjoyed themselves. Thank you so much Andy and the band for performing at our wedding. It truly was a memorable day.

---

Mr and Mrs Whitehead hired Andy Otley to perform at their wedding St Edwards Church Hall, Oldham

We booked Andy to sing at our recent wedding reception and he was brilliant! In the lead up to the event Andy called to introduce himself and ask if we had any special requests and timings etc... His performance on the night was fantastic and my Mum said she didn't even realise it was a live singer as it was so good! Our son and his cousins who are only 5 years old loved him too and I remember seeing them swinging off his arms whilst he was singing! Many singers wouldn't have tolerated this but Andy was lovely with them and it did not affect his performance one bit! Many of our friends and family were asking who he was and how we came across him and so I would certainly recommend to anyone thinking of hiring a singer at an event. Thanks again Andy for making our wedding reception so enjoyable

---

Fran & Gary hired Andy to perform at their wedding for Adam and Jodie's wedding at Boringdon Golf Club

I want to THANK YOU for singing and performing at Adam & Jodie's wedding in Plymouth, Saturday 29th July. We've had great feedback from all our friends and family and can't thank you enough for helping to make the wedding a huge success and a day to remember! You traveled a very long way and got the party atmosphere started as soon as you arrived! I hope you enjoyed the day too and got home safely. Thank you once again

---

Jenny & Ian hired Andy to perform on their wedding day

All I can say is, I'm so glad I persuaded my fiancé that it would be a good idea to cancel the DJ and hire Andy Otley as our Wedding Singer instead!! As soon as he heard Andy sing 'Superstitious' on YouTube, Ian my husband was sold!! And this became one of the best decisions we made for our wedding day. From first communication through to the end of our wedding day, Andy was so professional. He arrived in plenty of time for set up and began the evenings music playlist, getting everyone in the mood for the evening celebrations, without having to be asked. He looked great, well turned out, happy and enthusiastic about performing for our wedding. He was so approachable about when would be the best time to perform our first dance, which was absolutely incredible!! It really made our night, he sang it so beautifully. He then continued to sing one great song after another, getting everyone up on the dance floor with a superb mix of songs both old and new. All the guest commented throughout the evening, and still do, on just how great the singer was! This made the day even better because it was just so important for us that everyone, as well as ourselves, had a great time. I can't recommend Andy enough for the amazing job he did and would definitely use him again for any future events. Thank you so much for making our day just that extra bit special.

---

Owena Perrin, mother of the bride, hired Andy to perform on her daughter's wedding day at Shooters Hill Hall, Shropshire

Just wanted to say a massive THANK YOU for performing at our wedding at Shooters Hill Hall. After searching online for the perfect singer to perform we came upon your promo video on YouTube – WOW!!! We knew then that you were 'the one'! Luckily for us you were available on the day of the wedding. It was very reassuring when you called a couple of days beforehand to find out what kind of music we liked and what we expected from your performance on the night. From start to finish you were brilliant! Soft music (Ratpack) for the wedding breakfast and in the evening performing our chosen first dance right through to knowing exactly what would get everyone dancing! We had so many compliments about how good you were from friends and family of all ages. I would highly recommend you for any special occasion and wouldn't hesitate to hire you again. You were amazing! Thanks again for an amazing day and nights entertainment and the memories!

---

Catherine Rosenfield, Operations Manager, hired Andy Otley to perform at a Corporate Awards Ceremony held at The Hilton, Blackpool.

I booked Andy for an Annual Awards Evening with an audience of 120 ladies, who like to party. WOW, he was fabulous. He had the dance floor full from the first song to the last song. He is a true professional and really gets to know his audience. He works hard and I will definitely be booking him again. Thank you so much for making our evening.

---

Lynne Hamilton Booked Andy & His Band for a Christmas Charity Night

Choosing a good band for a Ball is critical, we were recommended Andy Otley & His Band by a booking agent as a new band on the scene, I listened to a demo and thought they sounded good. On the night of the event they arrived promptly and sound checked, they were good. But nothing could have prepared me for the performance on the night! They had the dance floor filled all night long, my guests loved it and you could see the band were thriving off the guests energy. They played a good mix of old and new songs. They were called for at least 3 encores and they obliged, bands in the past have done one song and that's that. The atmosphere was great, I would book Andy Otley & His Band again in a heartbeat as I think they are the best band we have ever had at an event! I highly recommend them if you want your guests up and dancing. I must say as an a side note they were very professional and polite to deal with too.

---

Lee booked Andy & his Band for a Christmas Ball

Really happy with Andy Otley & His Band. Andy, Olly, Luis and Hugo, turned up promptly and setup with no fuss. Adapting quickly to fit into a small space, however still able to setup a professional looking set. Always friendly, they listened to a quick brief on what I wanted and delivered two sets perfectly. From the moment Andy started singing, he quickly had dance floor full. His interaction and enthusiasm with the guests showed that we had booked a band with quality. This was all topped off with a disco service between sets that kept the party going all night. Highly recommended, I will have no problems booking this band again in the future. Cheers Andy, please pass this on to the crew.

---

Nicola Gould-Hodson booked Andy for her Wedding

After looking around to find the perfect band to perform at our wedding, a friend suggested the Andy Otley band, after searching online to find out more about them I was taken to their promo video on youtube. After hearing their version of " superstitious " I was sold! from that moment on I knew this band was exactly what I had been looking for. Lucky for me they were available for the day of my wedding. After speaking to Andy on the phone on the run up to to the wedding he made me feel at ease, as we discussed the songs for the day and the most important task of him singing my first dance I knew I had made the right decision. When the wedding finally arrived Andy and the band were very professional they had set up in good time, they were all dressed smartly and most of all they looked approachable. They performed the first dance song and I honestly felt like I was in a dream it was perfect! As the night continued the band played a fantastic mixture of old and new songs with everyone getting up to have a good old boogie! All the guests commented on the band and how amazing they were which only made me even happier. I cant recommend this band enough and will be recommending them to everyone that requires an outstanding performance! Thank you all so much again for making our wedding party a real party!

---

Andy Otley & His Band performed at Adrian & Nicola's wedding reception at Soughton Hall, Flintshire.

A big thank you on behalf of my sister for the entertainment on Saturday. You and your band were absolutely brilliant!!!

---

Stephen and Danielle McCoy hired Andy to perform at their wedding at Thornton Hall Hotel & Spa, The Wirral.

I would just like to say a special thank you for making our day even more special than it already was! From start to finish you were brilliant! Soft music (Ratpack) for the reception drinks and then after the wedding breakfast and into the evening, you then performed the more lively music set that all our guests thoroughly enjoyed dancing to. You were amazing! Great voice and a top Dj as well for later in the evening! Thanks again for an amazing day an nights entertainment and the memories! If we have any more parties we will be sure to ask you!

---

Joanne & Paul hired Andy to perform at a Masonic Ladies Event at The Hallmark Hotel, Cambridge

Thank you for a fabulous evening of entertainment on Saturday at the Nore Command Ladies Weekend in Cambridge. We all had a fantastic time. We will definitely contact you for our next event.

---

Becky and Matt Clarke hired Andy to perform at their wedding at Bawdon Lodge Farm in Loughborough.

Andy performed live at our wedding August 2016 – we can't sing his praises highly enough! He was absolutely fantastic, to performing our chosen first dance right through to knowing exactly what would get everyone dancing! We had so many compliments about how good he was – from friends and family of all ages. I would highly recommend him for any special occasion and wouldn't hesitate to hire him again.

---

Sergeant Dawn Reid, Entertainments Chairman for RAF Coningsby WOs' & Sgts' Mess, hired The Andy Otley Band for their Summer Ball.

We booked The Andy Otley Band for our Summer Ball at RAF Coningsby in July and I cannot recommend them enough. They were punctual, polite and friendly off stage and professional, talented and very entertaining on. Playing music from a variety of genres and eras, they were a definite crowd pleaser and our only problem was the dance floor wasn't big enough to cater for everyone who wanted to get up. Do not hesitate booking these guys, they are absolutely amazing and will make the perfect addition to any event. I am sure we will be seeing them again at RAF Coningsby.

---
Make Enquiry for Andy O & His Band Now!