The Vengaboys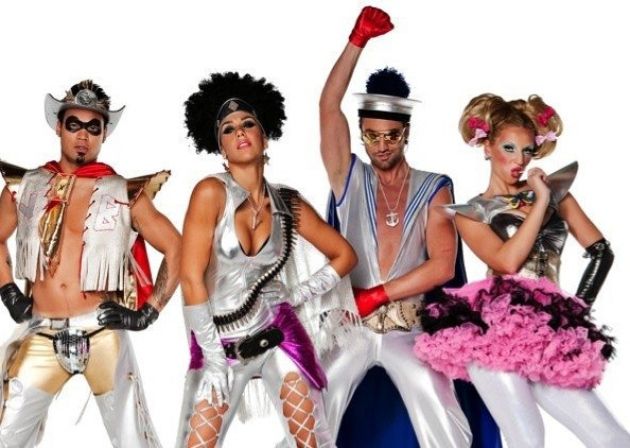 The Vengaboys
Top Dance Group of the 90s
Iconic 90s Dance Group
Ideal for Corporate Events, Weddings, Theme Nights, Private Parties
Available for Performances and Meet & Greet
Available UK Nationwide & Worldwide
The Venagaboys are the Iconic 90s Dance Group Who are Guaranteed to Get Your Guests Having the Night of Their Lives. Ideal for Corporate Events, Theme Nights, Weddings, Private Parties and Functions.

In 1998 the Vegaboys burst onto the Music scene, filling dance floors worldwide with their energetic, fun loving and incredibly catchy songs. The band delivered multi-platinum pop-dance hits continuously with Up & Down, We Like To Party!, Boom Boom Boom Boom!!, We're going to Ibiza and many more! The Vengaboys were able to hit the top of the charts in over 20 countries including U.K., Germany, Benelux, Spain, South Africa, Thailand, Poland, Australia and Mexico.

Blond bombshell Denice: "The Vengaboys story was a total adventure. It took us around the world in what seemed like a nonstop fun-fest".

In 1999 it's America's turn to welcome the Vengaboys! Up & Down and We Like To Party! storm to first place in the Billboard dance charts along with their debut album "Greatest Hits!" reaching USA gold status. In addition to this the group were nominated for MTV Best Breakthrough of the Year.

The Vengaboys received numerous awards including the TMF Award for Best Dance Act and received a prize for being Holland's most succesfull export that year. (Yes, they beat the tulips, agricultural products, and cheese..)

And the hits kept coming; Shalala lala, Kiss (When the sun don't shine), Uncle John From Jamaica all reached the top 5 in most countries. Throughout the band's history, EVERY Vengaboys single released, became a UK Top 40 hit. The group embarked on a world tour through the U.S., Australasia, Japan and South America.

The Vengaboys are still going strong and touring around the world with the most uplifting show to expand every party to a higher level. They truly know how to party!

Don't hesitate in contacting us now for more information and to book!
We're Going to Ibiza
Up and Down
Boom Boom Boom Boom!
We Like to Party(Venga Bus)
Kiss
Shalalala Lala
Uncle John From Jamaica
And Many More!
Travel
UK Nationwide | Europe | Worldwide
TV and Radio
Arenas
Live Music Venues
Hotels
Theatres
Corporate Events & Functions
Private Functions
Make Enquiry for The Vengaboys Now!