High Society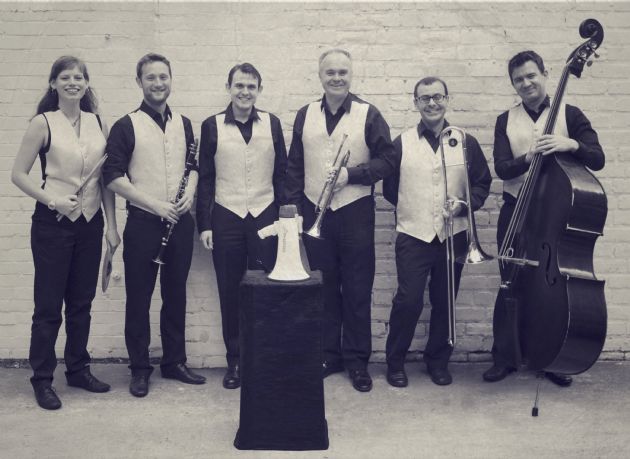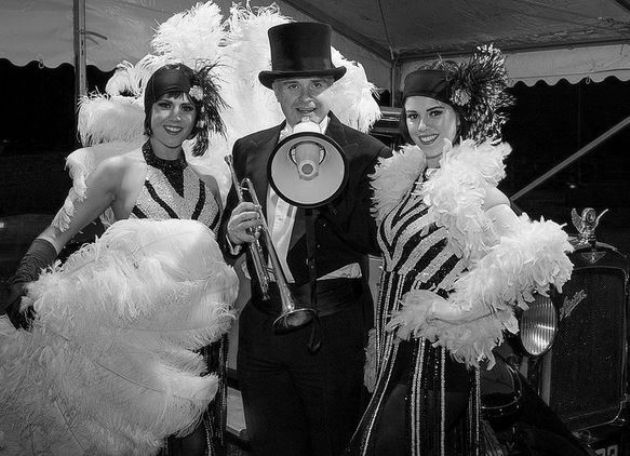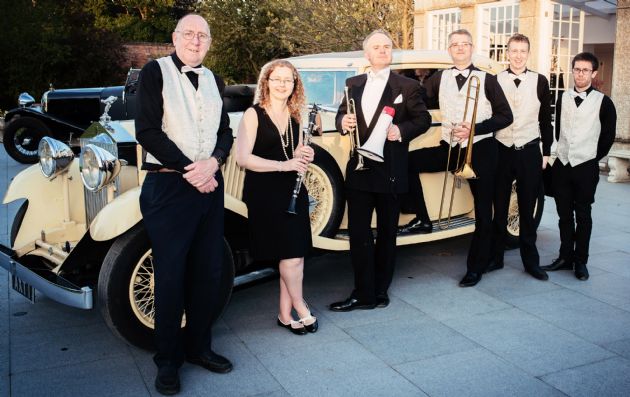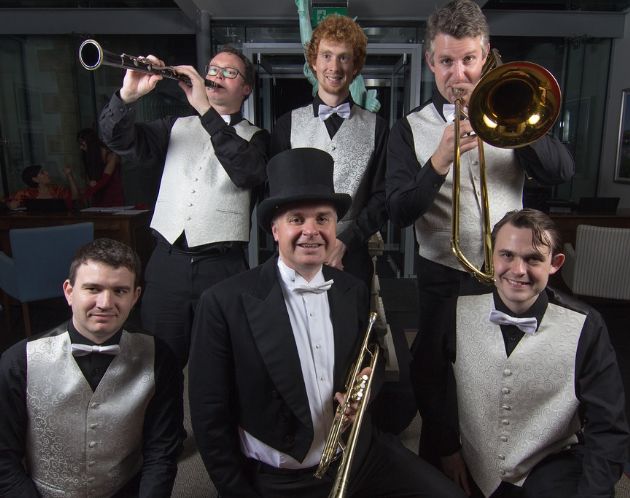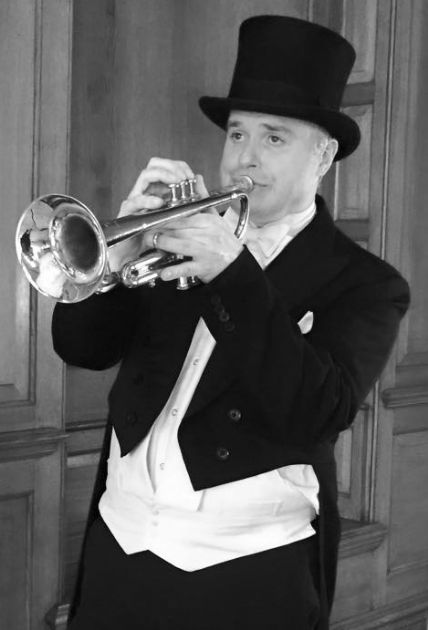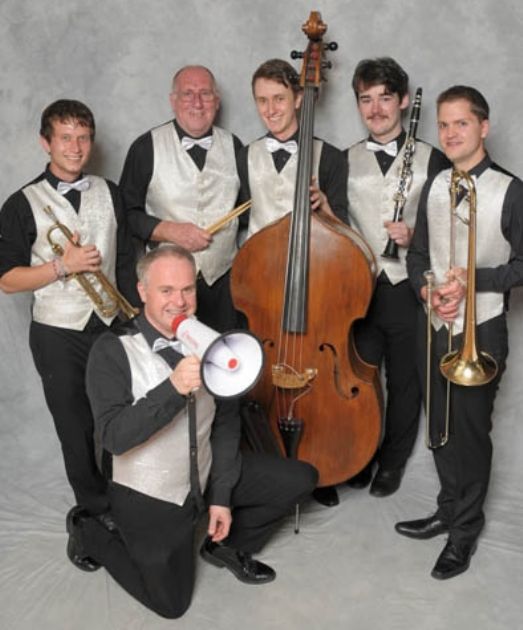 High Society
Brilliant 6 Piece Roaring 20s Jazz Band
6 Piece Band Specialising in Roaring 20's Jazz
Can Perform 20's, 30's and Beyond!
Perfect for Weddings, Events and Functions
UK Nationwide
Highly Recommended
High Society are an Exciting and Lively 6-piece Roaring 20s Band, Perfect for Theme Nights, Weddings, Parties, Corporate Events & Functions.

High Society are both fun and creative with their musical style, even have the vocal numbers sung through a megaphone for that authentic and quirky 1920s sound, with a rota consisting of trumpet/vocals, clarinet/sax, trombone, piano, double bass and drums.

They have an extensive repertoire of instantly recognisable favourites from the Roaring 20s through the Musicals of the 1930s and beyond. High Society entertains all ages with their mix of timeless, ever-popular songs from Broadway and Hollywood. Serving up classics by the likes of George and Ira Gershwin, Cole Porter and Irving Berlin...with a generous order of Dixie on the side!

The Band can be presented in vintage waistcoats and dickie bows or full evening dress. They are very versatile and can provide music indoors or outdoors for weddings, drinks receptions, garden parties, dinners, balls, race meetings, corporate hospitality and charity events.

For more information or to book, Contact us now!
Cantina Band – Beyond
Georgia – Beyond
Top hat white tie and tails - 30s
All I do is dream of you - 30s
Tiger Rag – Dixie
Crazy rhythm - 20s
Dr Jazz - 20s
Lets call the whole thing off - 30s
Pennies from Heaven - 30s
Love is the sweetest thing - 30s
They cant take that away from me - 30s
New Dixieland parade – Dixie
It had to be you - 20s
Spread a little happiness - 20s
Stardust - 20s
Stumbling – Dixie
Its D'lovely - 30s
Isnt this a lovely day - 30s
Diamonds are a girls best friend – Beyond
I got rhythm - 20s
The sheik of Araby - 20s
I'm in the mood for love - 30s
Sensation – Dixie
Fly me to the moon - Beyond
Lets do it, lets fall in love - 20s
I've got you under my skin - 30s
Change partners - 30s
Shine on harvest moon – Dixie
Five foot two eyes of blue - 20s
Twelfth street rag - Dixie
Cheek to cheek - 30s
Get happy - 30s
What'll I do (waltz) - 20s
Sugar foot stomp – Dixie
Hello Dolly – Beyond
Bring me sunshine - Beyond
Aint she sweet - 20s
Embraceable you - 20s
All of me - 30s
Enjoy yourself – Beyond
Maryland my Maryland – Dixie
When you're smiling - 20s
The very thought of you - 30s
Im gonna sit right down - 30s
Let yourself go - 30s
Always (waltz) - 20s
Charmaine (waltz) - 20s
Livery stable blues - Dixie
Nice work if you can get it - 30s
It happened in Monteray (waltz) - 20s
On the sunny side of the street - 20s
Basin Street blues – Dixie
Blue moon - 30s
Don't get around much any more – Beyond
Lets misbehave - 20s
Sunday – Dixie
Anything goes - 30s
Chattanooga Chocho – Beyond
Come fly with me – Beyond
Button up your overcoat - 20s
I get a kick out of you - 30s
S'wonderful - 20s
Smile - Beyond
That's my weakness now - 20s
Happy feet - 30s
Peacherine Rag - Dixie
Midnight in Moscow – Beyond
Dinah – Dixie
Done by the riverside - Dixie
Wont you come home Bill Bailey – Dixie
My Blue heaven - 20s
Perfidia - 30s
Love is here to stay - 30s
Muskrat ramble – Dixie
Singing in the rain - 20s
Keep young and beautiful - 20s
Its only a paper moon - 30s
Cherry pink (Latin) - Beyond
At last – Beyond
All the way – Beyond
High society - Dixie
Im putting all my eggs in one basket - 30s
Aint misbehavin - 20s
Frenesi (Latin) - Beyond
Jeeves and Wooster Theme – Beyond
Im going to lock my heart - 30s
The lady is a tramp - 30s
Making woopie - 20s
The bear necessities – Beyond
Sweet Georgia Brown - 20s
A spoonful of sugar – Beyond
Battle hymn of the republic – Dixie
I wanna be like you – Beyond
Sway (Latin) – Beyond
Fools rush in (Latin) – Beyond
Stormy weather - 30s
Jeepers creepers - 30s
Bye bye blackbird - 20s
Panama - Dixie
Happy days are here again - 20s
Dream a little dream of me - 30s
Lets face the music and dance - 30s
That's a plenty – Dixie
Don't bring Lulu - 20s
The Charleston - 20s
Lullaby of Broadway - 30s
The sun has got his hat on - 30s
As time goes by - 20s
Babyface - 20s
Royal garden blues – Dixie
Goodnight Sweetheart - 30s
It don't mean a thing - 20s
Putting on the Ritz - 20s
When the saints go marching in - Dixie
The entertainer - Dixie
Travel
UK Nationwide | Europe | Worldwide
East Midlands Airport
York Racecourse
Charity Events
Weddings
Private Functions
and More!
Reviews of High Society
Stephanie Woof hired High Society for a Charity Event at Wood Green Animal Shelter, Cambs

Thanks to High Society for being part of our event – they really added a brilliant element to the night and I have had lots of comments on how great everyone thought they were! I really do appreciate their attendance and performance at our fundraiser – it was fantastic. It has been an absolute pleasure working with High Society before and during the event!

---

Carolyn and Glenn Crocker hired High Society for a Wedding in Melbourne, Derbyshire

Thank you for the most wonderful evening of music and entertainment on Saturday. High Society were EXACTLY what we were after! You were highly praised by our guests too and we shall certainly recommend you (and hopefully book you again ourselves!)

---

Clare & Paul Metcalf hired High Society for a Wedding at Stanley House Hotel, Blackburn

Thank you so much. High Society was fantastic and so many people have contacted us to say how much they enjoyed the music. We all had a fantastic time!! Thank you for your good wishes. We are just at the airport waiting for our flight to Sorrento!!

---
Make Enquiry for High Society Now!