Tribute to 1940's by Dom Collins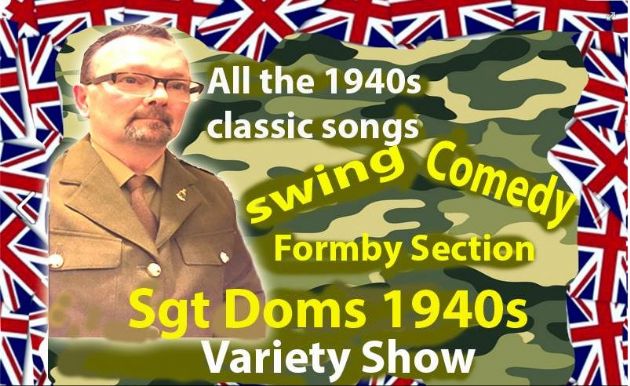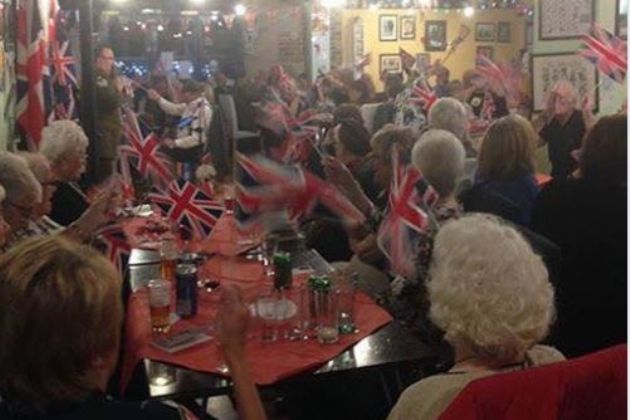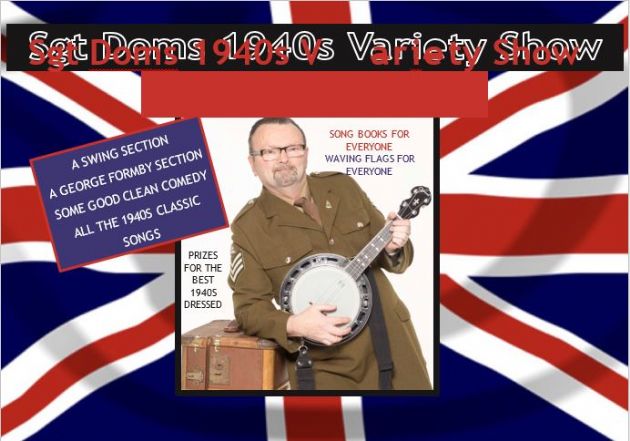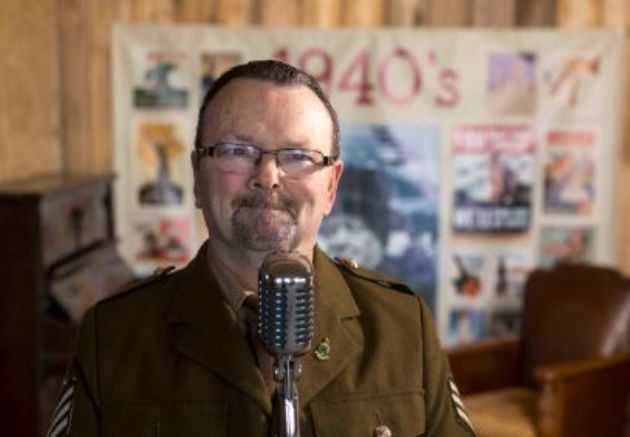 Tribute to 1940's by Dom Collins
Tribute to 1940's
Excellent Themed Entertainment
Perfect for Theme Nights, Weddings,Parties & Events
'1940s
Sgt Doms Variety show is a fun filled singalong night of entertainment. This 2 x 45 min show consists of
A Winston Churchill Section—A Swing Section—A George Formby Section. Some Good Clean Comedy—All the 1940s Classic Songs—A Raise the roof Finale. A 12 x 10 foot 1940s Backdrop—Everyone will receive Waving Flags. Everyone will get a Song Book to allow you to join in throughout the show. Sgt Dom always gives out special prizes for the best 1940s dressed & Dancers.


There are over 50 songs in this 2x 45 min show
The Great Escape
Sing-along songs
The White Cliffs of Dover
Smile
Chat n of the Choo Choo
Im looking over a 4 leaf clover
Happy days are hear again
Knees up Mother brown
Who was you with last night
My old man said follow the van
The Swing section
Mac the knife
You make me feel so young
My kind of girl
Aint that a kick in the head
L-O-V-E
Ramblin Rose
Comedy section. (Plus clean gags)
Gilly Gilly osenfetter Katzenaugen by the sea
The Trail of the lonesome pine
Sing-along songs
Bye Bye Blackbird
You are my sunshine
Bring me sunshine
Side by side
You must have been a beautiful baby
If you knew Suzy
Maybe its because Im a Londener
When your smiling
George Formby section
When Im cleaning Windows
With my little ukulele in my hand
With my little stick of Blackpool rock
Im leaning on a lamppost
Sing-along songs
Roll out the barrel
Baby face
Five foot two eyes of blue
Yes sir thats my baby
Shine on Harvest moon
You made me love you
Whos sorry now
Strolling
Underneath the arches
Sing-along songs Big Finale
Bless em all
Were going to hang out the washing on the seigfree line
Kiss me good night Sgt Major
Pack up your troubles in your old kit bag
Its a long way to Tipperary
Sing as we go
Pomp and Circumstance Land of hope and glory
The'll always be an England
Wish me luck as you wave me goodbye
We'll meet again
Show me the way to go home
Travel
UK Nationwide | Europe | Worldwide
Reviews of Tribute to 1940's by Dom Collins
Make Enquiry for Tribute to 1940's by Dom Collins Now!