Want U Back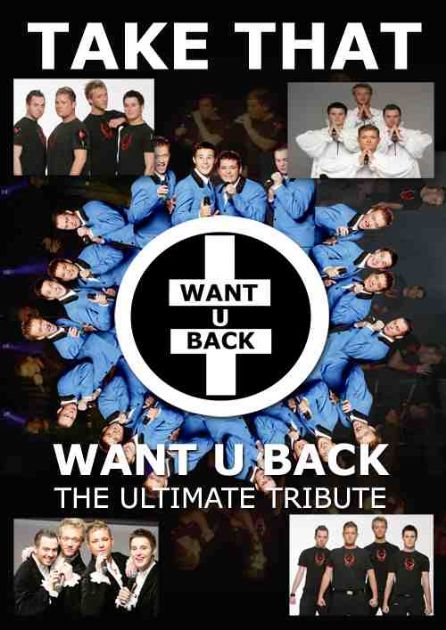 Want U Back
Brilliant Take That Tribute Show
Highly Recommended
Viewed & Approved
UK Nationwide
Want U Back is the UK's leading tribute to Take That. They have been performing together for over 3 years and have already had two very successful summer seasons in Spain, where they have impressed audiences and agents alike with their outstanding and original 'take' on Take That!

They are currently undertaking a third summer in Mallorca, by popular demand, and once again, will return to the UK in October, to a full diary, taking them well into 2010.

Want You Back prides itself on being more than just a tribute to "Take That", with a unique format, great vocal sound, stunning costume changes and original choreography, it's as close to being at an actual Take That concert as you can get. Want U Back takes you on a journey from the early days of Take That through to their latest releases, still performing as a five piece with their very own Robbie.
Village Hotels
Ramada Hotels
Holiday Inn Hotels
Make Enquiry for Want U Back Now!