He`s The One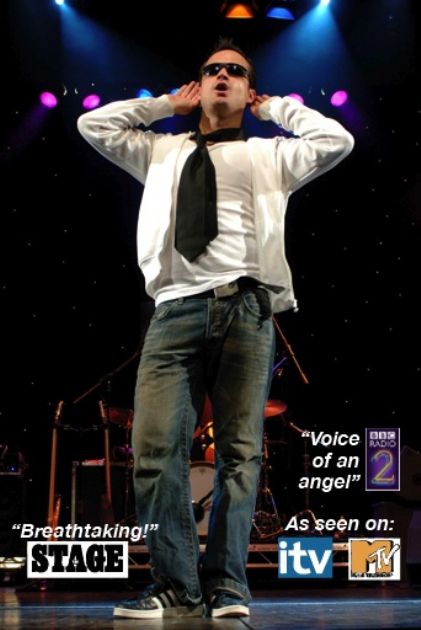 He`s The One
The UK's No.1 Robbie Williams Tribute
Highly Recommended
Viewed & Approved
UK Nationwide
'He's The One', a fun, energetic show dedicated to the sheer brilliance that is Robbie Williams, executed with point blank accuracy by the uniquely talented Lee Pashley.

Already an established vocalist in his own right, Lee Pashley relives the magic and essence that is Robbie. His breathtaking tribute combines Robbie's trademark arrogance with his own natural humour. Lee gives an electrifying stage performance which shakes the audience to the core and leaves them aching for more.

Lee has been touring the UK, regularly singing to ecstatic crowds who can't believe the vocal excellence of his portrayal. Lee is often asked if he mimes to the real thing - a compliment indeed!

All your favourite hit Robbie songs are covered with incredible accuracy
Travel
UK & International
BBC RADIO 2
ITV
SKY
JUMPING JACKS
HILTON HOTELS
JCB
RAF CONNINSBY
ORSETT HALL HOTEL
GROVSNER CASINO
GALA BINGO
RAMADA HOTEL
HILTON NORWICH
THE BEAUFORT HOTEL ORMSKIRK
SOUTHAMTON UNI
THE ROAD HOUSE COVENT GARDEN
TIGER TIGER PORTSMOUTH
BUTLINS
STRINGFELLOWS
WHITTELBURY HALL
THE NURSARY RESTAURANT
THE ORCHID SPOT
THE BEACHCOMBER
WATERSIDE HOLIDAY PARK
HALKERS SPORTS AND SOCIAL BOLTON
VAUXHALL HOLIDAY PARK
OCEAN VILLAGE CRUISE SHIP
GEORGE WASHINTON HOTEL
RIFELS ENFIELD
BAR B BLACKPOOL
LYNROYS RESTAURANT
MILLERS HOTEL
GREAT BENTLY COUNTRY PARK
DAVID LOYYED
CREATION NIGHTCLUB SWANSEA
RICHMOND HOLIDAY PARK SKEGNESS
ALTRINCHAM CHRISTMAS LIGHTS TURN ON
MACKWORTH HOTEL
CARLTON HOTEL EDINBURGH
HARLOW SPORTS CENTER
SOUTH SHIELDS CHRISTMAS LIGHTS TURN ON
HOLIDAY INN BRIGHOUSE
PULMAN LODGE SUNDERLAND
HARRY RAMSDENS
QUALITY HOTEL DERBY
WEST LODGE HOTEL ESSEX
FLAMINGOS NIGHTCLUB BLACKPOOL
RENDEVOUS CASINO
THE CORN EXCHANGE EDINBURGH
ALEXANDER HOTEL
SCARISBRICK HOTEL SOUTHPORT
ALEXANDRA THEATRE
AND MANY MORE THAT SPAN THE LAST 8 YEARS
Make Enquiry for He`s The One Now!