Tribute to Phil Collins & Genesis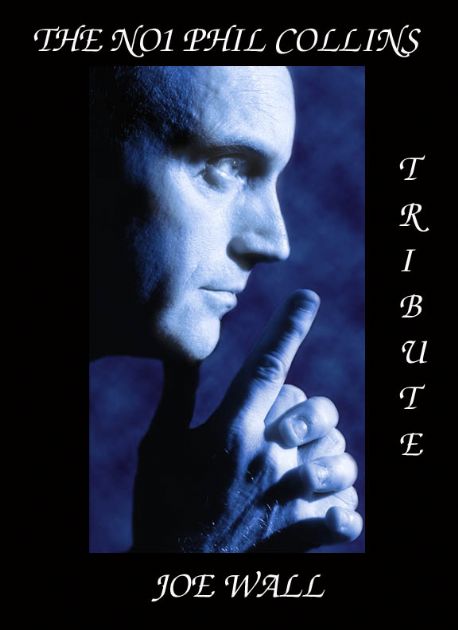 Tribute to Phil Collins & Genesis
Excellent tribute
Perfect for Events & Parties
Highly Recommended
Professional & Authentic Tribute
Available From solo to 12 piece band
Available with Live piano
Full Public Liability and PAT Testing
Available UK Nationwide
Over the years Joe has developed a show that's as near to the real thing as
you will ever get. Not only does Joe sound like Phil Collins, but he also bears an uncanny resemblance to him as well.

For 10 years now he has been asked to
perform a tribute to Phil Collins and Genesis but hes always been involved in
other acts and could not afford the time needed to perfect an act to the
standards to which he now performs.

"I've always said that I won't do anything unless I can give it the time and effort it deserves, I didn't feel I could do that until now. People pay good money for a tribute act and I don't think it's fair not to give value for that money".

Well value for money is definitely what
you will get if you book Joe Walls tribute to Phil Collins. He performs songs from Phil Collins solo career as well as from his time with Genesis.
His backing is all done in his own digital recording studio and has, where necessary backing vocals, all voices on the tracks are Joes own.

On stage he uses live Piano for tracks such as In the Air Tonight, Against all odds, Thatís All, One more night, Groovy kind of love, Another day in Paradise, and I wish it would Rain, other songs included are, Mamma, Sussudio, Both sides of the story, Invisible touch, Something happened on the way to heaven, I can't dance, Can't hurry love, Two hearts, etc.

You will not be disappointed.

Something Happened On The Way To Heaven
Against All Odds
Don't Lose My Number
I Can't Dance
One More Night
Easy Lover
Do You Remember
Who Said I Would
You'll Be In My Heart
Another Day In Paradise
Missed Again
Separate Lives
In The Air Tonight
Invisible Touch
I Wish It Would Rain Down
True Colours
Hang In Long Enough
Groovy Kind Of Love
You Can't Hurry Love
Two Hearts
Wear My Hat
Dance Into The Light
Sussudio
Take Me Home
Travel
UK Nationwide | Europe | Worldwide
Hotels
Holiday Parks
Casinos
Private Parties
Corporate Events
Weddings
Live Music venues and more
Reviews of Tribute to Phil Collins & Genesis
Make Enquiry for Tribute to Phil Collins & Genesis Now!