Ed - Solo Guitarist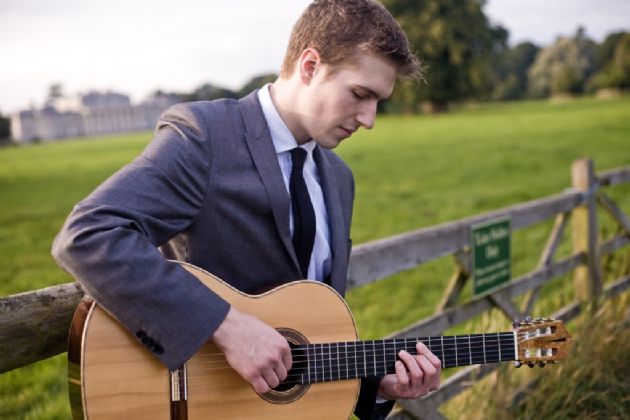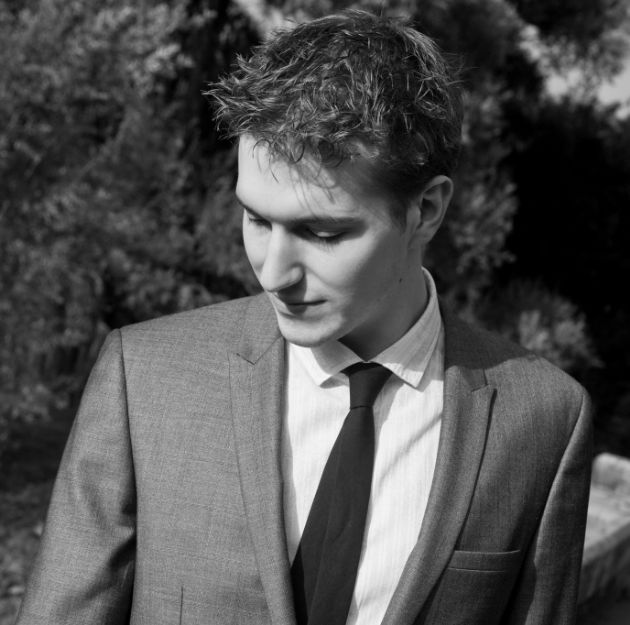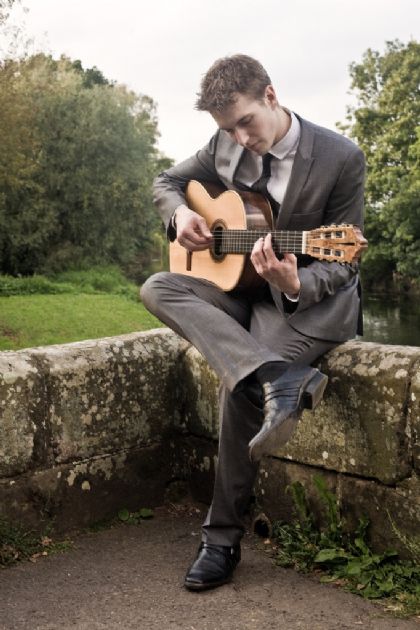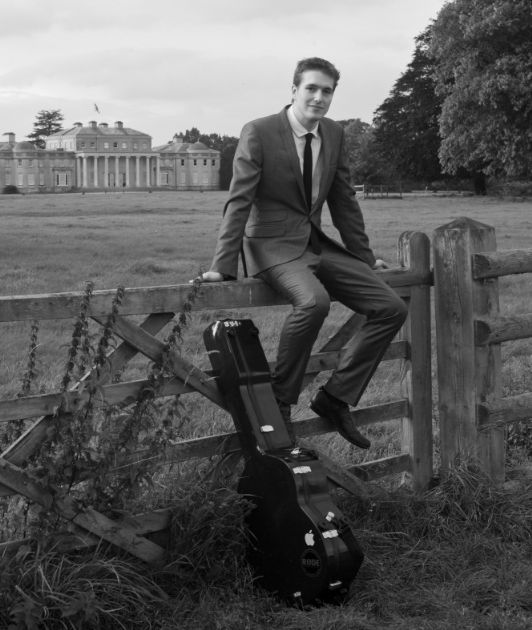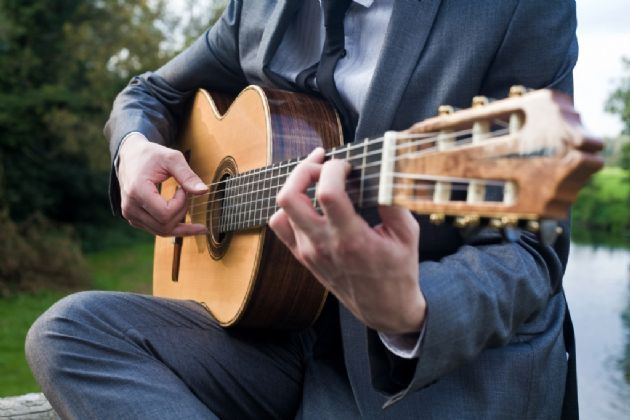 Ed - Solo Guitarist
Guitarist for Weddings & Events
Perfect for Weddings, Corporate Events & Private Parties
Highly Recommended
Talented Musician
Available UK Nationwide
Public Liability & PAT Testing Certificate
Ed is a highly accomplished classical guitarist who specialises in providing entertainment at weddings, private functions, corporate events and restaurants in the UK and Europe.

He studied at the Royal Conservatoire of Scotland, one of the UK's leading music conservatoires and has performed in a number of prestigious venues including Houses of Parliament, De Vere Belfry and Birmingham Symphony Hall. Ed is a vastly experienced professional musician capable of delivering exactly what you need, whether it's ambient background music for a private function or playing during your wedding ceremony/bridal procession.

Ed is sensitive to the occasion and able to deliver a perfect soundtrack for your event.
His repertoire includes Classical, Spanish, Latin, Jazz and instrumental Pop/Rock covers. This balance of material ensures he is able to accommodate any scenario requiring live ambient music. He is also able to take requests prior to the day of the performance, so if you would like a particular song for a special occasion, this can be arranged specifically for you at no extra charge.

Ed began playing the guitar in 1997 and quickly established a reputation as a talented classical guitarist. He won various music festivals and competitions including regional Young Musician of the Year in 2005, before accepting a place at the Royal Conservatoire of Scotland.

Since he began performing professionally at the age of 15, he has entertained many high profile guests including Queen Elizabeth II, Peter Mandelson and Alastair Campbell. He has also performed for some of the world's leading guitarists, eliciting praise from Pavel Steidl, Thomasz Zawierucha and Graham Devine.

Ed now concentrates on delivering outstanding performances at weddings, private functions, corporate events and restaurants. He believes in setting the highest possible standard and delivers time and time again for each of his clients.

CLASSICAL GUITAR SET
Prelude (Bach)
Allemande (Bach)
Courante (Bach)
Sarabande (Bach)
Minuet (Bach)
Bouree in E minor (Bach)
Air on the G String (Bach)
Minuet in G (Bach)
Canarios (Trad)
Sor Etudes (Sor)
Carcassi Etudes (Carcassi)
Fantasy (Weiss)
Cavatina (Myers)
Havre Gosselin (Lindsey-Clark)
Cycles in the Avenue (Lindsey-Clark)
La Moinerie (Lindsey-Clark)
Birds Flew Over The Spire (Ryan)
Canerie (Anon)
A Toy (Anon)
Allemande (Anon)
Il Bianco Fiore (Negri)
Orlando Sleepeth (Dowland)
Almain (Dowland)
Tarleton's Riserrectione (Dowland)
Mrs Winters Jump (Dowland)
Mrs Nichol's Alman
Italian Dance (Neusidler)
Branle (Besard)
Volte (Besard)
Go From My Window (Anon)
Pavan I (Milan)
Diferencias Sobre (Narvaez)
Pavan III (Milan)
Sarabande II (Bach)
Marche (Bach)
Sarabande III (Bach)
Gavotte I and II (Bach)
Trio to a Minuet (Bach)
Menuet in A Minor (Bach)
Musette (Bach)
Menuet (Bach)
Sleepers Awake (Bach)
Minuet in C (Mozart)
Allegro in D (Mozart)
Andante in E (Mozart)
Minuet from Don Giovanni (Mozart)
Theme from Symphony No. 7 (Beethoven)
Symphony No.3 "Eroica" (Beethoven)
Minuet in C (Beethoven)
Piano Sonata No. 8 "Pathetique" (Beethoven)
Fur Elise (Beethoven)
Canon in D (Pachebel)
Pavane (Faure)
SPANISH
Malaguena (Tarrega)
Capricho Arabe (Tarrega)
Recuerdos de la Alhambra (Tarrega)
Pavana (Tarrega)
Farruca (Pearson)
Petenera (Pearson)
Danza Mora (Pearson)
Granadinas (Pearson)
Cancio del Illadre (Trad)
El Testamento De Amelia (Trad)
La Llorona (Trad)
Estudio (Aguado)
Torija (Torroba)
Soledad (Oser)
Asturias (Albeniz)
Mallorca (Albeniz)
Fandango (Lindsey-Clark)
Olorosso (Lindsey-Clark)
Tango (Lindsey-Clark)
Zincarlo (Lindsey-Clark)
Vals Navarra (Lindsey-Clark)
Pamplona (Lindsey-Clark)
Lagrima (Tarrega)
Rosita (Tarrega)
Estudio (Tarrega)
Romanza (Trad)
Gran Vals (Tarrega)
JAZZ and LATIN SET
Manha de Carnaval (Bonfa)
Ilha De Coral (Bonfa)
All The Things You Are (Jerome Kern)
Blue Moon (Rodgers)
Days Of Wine And Roses (Mancini)
Embracceable You (Gershwin)
It Had To Be You (Jones)
Someone To Watch Over Me (Gershwin)
When I Fall In Love (Young)
Summertime (Gershwin)
How Insensitive (Jobim)
Bluesette (Thielemans)
Autumn Leaves (Kosma)
Registro (Lauro)
Tatiana (Lauro)
Andreina (Lauro)
Natalia (Lauro)
El Negrito (Lauro)
Brasiliana (Powel)
Retrato Brasileiro (Powel)
Vals No.4 (Barrios)
Rio By Night (Lindsey-Clark)
Montanas Nebulosas (Lindsey-Clark)
Tango Esta Noche (Lindsey-Clark)
Vals - Hommage to Lauro (Lindsey-Clark)
Danza del Arpa (Lindsey-Clark)
Milonga (Cardoso)
Verano Porteno (Piazzolla)
POP/ROCK and MOVIE THEMES SET
Wonderful Tonight (Clapton)
Godfather Suite (Rota)
Hallelujah (Cohen)
Don't Wanna Miss A Thing (Aerosmith)
More Than Words (Extreme)
Nothing Else Matters (Metallica)
Can't Help Falling In Love (Elvis)
Wherever You Will Go (The Calling)
Summer Of 69 (Bryan Adams)
Beautiful (Christina Aguilera)
Let It Be (Beatles)
Hotel California (Eagles)
Save The Best For Last (Vanessa Williams)
Mad World (Michael Andrews)
Over The Rainbow (Arlen)
Run (Snow Patrol)
As Long As You Love Me (Backstreet Boys
My Heart Will Go On (Celine Dion)
You Are Not Alone (Michael Jackson)
I Believe I Can Fly (R Kelly)
How Deep Is Your Love (Bee Gees)
In My Place (Coldplay)
Come As You Are (Nirvana)
Always (Bon Jovi)
Everything I Do (Bryan Adams)
No Woman No Cry (Bob Marley)
And I Love Her (Beatles)
Yesterday (Beatles)
Travel
UK Nationwide | Europe | Worldwide
Queen Elizabeth II
Peter Mandelson
Alastair Campbell
Houses of Parliament
Symphony Hall
Glasgow Recital Rooms
BBC Scotland
Barchester Healthcare
Royal College of Psychiatrists
David Kidney MP
De Vere Belfry
Reviews of Ed - Solo Guitarist
Libby Miles - Wedding

Ed was punctual, polite and very approachable. Our guests loved listening to him play and chatting to him. He has a wonderful way with people, putting them at ease and enabling them to enjoy the music. Ed, it was a pleasure.

---

Andy Fisher - Wedding

Many thanks for making our special day go so well. You certainly went "the extra mile" during the ceremony filling in the 20 minutes. Thanks for playing our entry and exit music too. We had some really complimentary comments about your music and the fact it was nice to have some classical stuff in the background instead of "Disco".

---

Andrew Sheppard, Wedding, August

We asked Ed to play at our wedding in August 2012. Ed was very accommodating, friendly and really easy to organise things with. He made some great suggestions as to the music we might like which we were really keen to take advantage of. On the day of the wedding, Ed arrived in plenty of time, and set up with no fuss - which was really appreciated. The music he played was beautiful and set the scene wonderfully. Thanks Ed so much for helping to make the day so special.

---
Make Enquiry for Ed - Solo Guitarist Now!