JK - Solo Guitar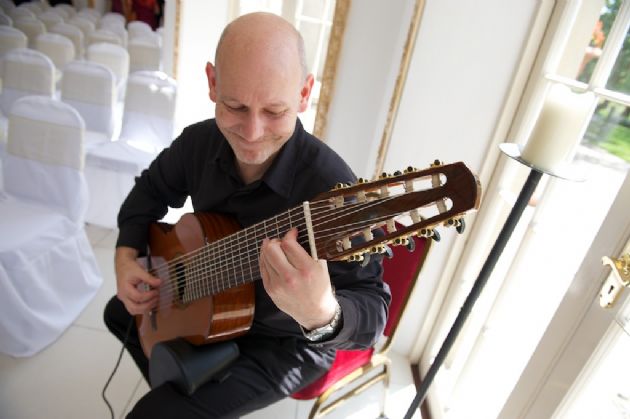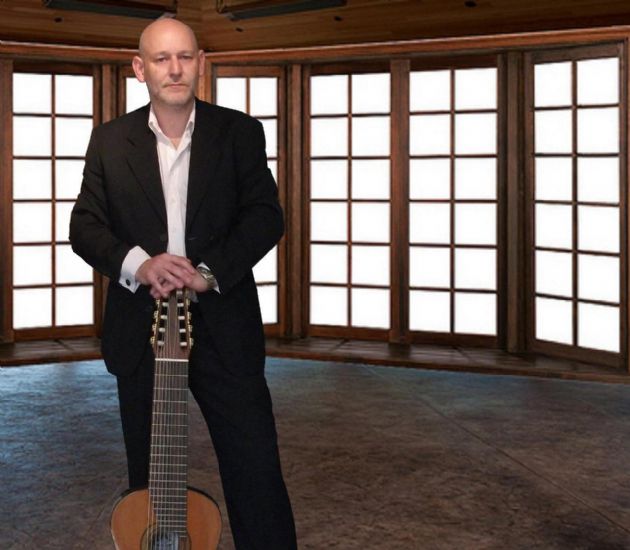 JK - Solo Guitar
Solo Guitarist for Weddings & Events
Highly Recommended
Viewed & Approved
UK Nationwide
JK is a professional guitarist with over 25 years' experience performing at weddings and private events. His repertoire covers over four centuries of music with an emphasis on Baroque, Renaissance and Celtic styles, performed on 10-string classical guitar and steel-string acoustic guitar. JK tailors his repertoire to suit the client's individual preferences and is always happy to offer assistance and advice in selecting the perfect music for the occasion. His repertoire is perfectly suited to wedding ceremonies,drinks receptions and banquets, creating a beautiful, sensitive and balanced musical ambience.



CLASSICAL & SPANISH
Adagio - Albinoni
Air (Orch. Suite #3) - Bach
Bianco Fiore - Negri
Bist du bei mir –Stölzel / Bach
Canco del Lladre - Trad. Catalan
Canon in D - Pachelbel
Capricho Arabe - Tarrega
Cavatina - Myers
Clair de Lune (excerpt) - Debussy
Divenire - Einaudi
Downton Abbey Theme - Lunn
Etude (op.60 #3) - Carcassi
Etude in E minor - Tarrega
Fantasia - Kellner
Galliard #10 - Cutting
Gymnopedie #1 - Satie
I Giorni - Einaudi
Lagrima - Tarrega
Largo & Allegro - Vivaldi
Mistress Winter's Jump - Dowland
Pavans 1 & 3 - Milan
Prelude #1 - Tarrega
Prelude #5 - Tarrega
Prelude (Antiga Suite) - Santorsola
Prelude in C (BWV 846) - Bach
Prelude in D - Kindgren
Prelude in D (BWV 1007) - Bach
Prelude in D minor (BWV 999) - Bach
Prelude XII - Kindgren
Preludium - Dowland
Romanza - Anonymous
Rondeau –Purcell
Sentimentos - Kindgren
Soleares - Trad. flamenco
Tango esta Noche - Lindsey-Clark
Te Quiero - Kindgren
Tiento Antiguo - Rodrigo
Toccata Arpeggiata - Kapsberger
Toccatas III & V - Galilei
Trumpet Voluntary - Clarke
Vaghe Belleze - Italian Renaissance
Walsingham Air - Arr. Dowland
CELTIC & TRADITIONAL
Athair ar Neamh - Enya
Brian Boru's March - Trad. Irish
Drummond Castle - Trad. Scottish
Firedance (Riverdance) - Whelan
Greensleeves - Trad. English
Harry's Game - Clannad
Haste to the Wedding - Trad. Irish
Horses Brawl - Trad. English
Inside - Clive Carroll
Joy to the Person - Trad. Scottish
Lift the Wings (Riverdance) - Bill Whelan
Miss McDermott - Carolan
Monaghan Jig - Trad. Irish
Ny Kirree Fo Sniaghtey - Trad. Manx
Promise of Spring - Clive Carroll
Riverdance - Whelan
Scarborough Fair - Trad. English
She Moves Through the Fair - Trad. Irish
Wild Mountain Thyme - Trad. Scottish
CONTEMPORARY
Blue Moon - Rodgers / Hart
Classical Gas - Williams
Here Comes the Sun - Harrison
I Knew It Was You - Bennett
I've Always Thought of You - Emmanuel
Imagine - Lennon
Local Hero Theme - Knopfler
Lothlorien – Enya
May It Be - Enya
Mona Lisa - Evans / Livingston
Ruby's Eyes - Emmanuel
Saltwater - Lennon
Settembre - Bazzani
The Memory Of Trees - Enya
The Road to Brecon - Roche
Those Who Wait - Emmanuel
Watermark - Enya
Wind of Change - Acoustic Alchemy
Travel
UK Nationwide & Worldwide
The Dorchester
The Langham
Mandarin Oriental
The Hilton Group
The Four Seasons Group
The Great Eastern
The Commonwealth Club
The Lainston
Pennyhill Park
Goodwood
Runnymede
Northbrook Park
Rivervale Barn
Foxhills Country Club
and many many more
Reviews of JK - Solo Guitar
Sarah & Graham – Epsom, Surrey

Thank you for playing at our wedding reception. The beautiful music was exactly what we wanted and really helped set the mood. Many thanks and we will be recommending you to our friends.

---

Denise & Sam - Midhurst, West Sussex

I first heard JK play at our friend's wedding and asked the bride for his number immediately. He was perfect to play for my husband's birthday as I had organised a banquet style dinner and asked Jim if he could do a cross of Baroque and Celtic sounds. He lived up to all my expectations and I would have been very happy not to talk to any of my guests and just listen to him play with a glass of wine in hand. Always professional and thoughtful, he played during dinner and beyond. I now have to throw another party so we can hire him again! Thank you JK

---
Make Enquiry for JK - Solo Guitar Now!